Slice of History Fuels Food Fest
Forty eateries to cook up tribute to Pasadena as home of cheeseburger.
Friday, December 30, 2016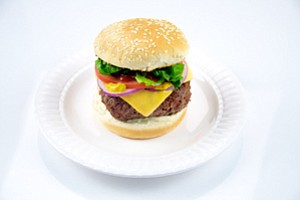 The public knows Pasadena as the site of the annual Rose Parade or perhaps as the hometown of chef Julia Child. A lesser known fact: It also lays claim to being the birthplace of the cheeseburger.
In 1924, teenager Lionel Sternberger topped a hamburger with the stuff at his father's roadside stand, the Rite Spot, at 1500 W. Colorado Blvd. and called it "The Aristocratic Burger." Since 2011, Pasadena has celebrated the event with the annual Cheeseburger Week.
Forty Pasadena restaurants will pay homage to the cheeseburger with signature offerings and special combos during the Jan. 8-13 event, presented by the Pasadena Chamber of Commerce as part of California Restaurant Month. The event will kick off at 11 a.m. on Jan. 5 when officials unveil a commemorative plaque at the former Rite Spot site now occupied by LA Financial Credit Union.
A week of cheese not only will add calories to your burger, but also will beef up the local economy, says chamber Chief Executive Paul Little.
"Restaurants that take part see a pretty good uptick in business," he said.
Pasadena's 53-year-old Pie'n Burger diner will offer food truck service at the plaque unveiling, with 20 percent of proceeds donated to the city's Ronald McDonald House. Owner Michael Osborn said his restaurant, usually serving up between 500 and 600 pounds of ground meat a week (2,000 to 6,000 burgers), saw a 15 percent increase during the first Cheeseburger Week and about a 10 percent jump over usual sales in more recent years.
Clearly, Sternberger was on to something – Osborn said 75 percent to 80 percent of burger customers ask for cheese.
– Diane Haithman
For reprint and licensing requests for this article, CLICK HERE.