Immigration Funding May Depart
DEVELOPMENT: Fate of EB-5 has projects mulling financing.
Friday, December 30, 2016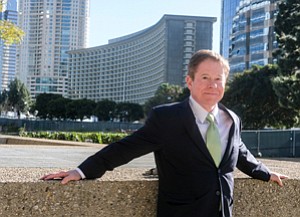 A popular immigration pipeline into the United States for Chinese citizens – and a huge source of capital for L.A. developments – survived several challenges last year as lawmakers threatened to roll back and even scrap the federal visa program.
But that reprieve might be brief as EB-5 comes up for another vote in Congress in April, which is stirring caution among developers.
"The biggest issue developers are facing is whether they go out and look for EB-5 funding right now with all the uncertainty," said Jim Butler, an attorney at Century City's Jeffer Mangels Butler & Mitchell, which represents developers looking to access capital through the EB-5 program. "It's a legitimate question. That said, there's always risk, but this is relatively noncontroversial legislation and we believe (developers) should have a little faith."
That isn't how everyone sees it, though.
Where EB-5 money should flow has been a particularly contentious issue, with legislators from rural areas advocating for more visas to be funneled to projects outside of metropolitan centers such as Los Angeles and New York.
EB-5 annually allocates a maximum of 10,000 green cards to foreign investors who sink at least $500,000 into a U.S. project that creates at least 10 jobs. Congressional passage of short-term budget fixes in September and December kept the program alive when it was set to expire.
"Critics say that it's all rich guys getting money for projects in big cities while little guys in Iowa can't get anything," Butler said.
His firm has represented developers including some involved with the Century Plaza Hotel renovation in Century City, which received $450 million in EB-5 money secured by Woodbridge Capital Partners.
These foreign investment funds – especially the larger ones – are not the product of a single investor. Most consist of dozens and often hundreds of EB-5 investments that have been bundled together by a third party.
While questions about the program's future remain, there's little doubt EB-5 investment has been critical in L.A.'s development boom. In addition to the Century Plaza project, a $188 million component of the Los Angeles Stadium and Entertainment District at Hollywood Park also came from an EB-5 fund tapped by Stockbridge Capital Group.
Chinese connection
The vast majority of green cards handed out through the EB-5 program go to Chinese investors. More than 80 percent of the 10,000 available visas in 2015 were handed out to China-based applicants.
Demand for those visas is growing steadily.
Though it was once an afterthought, the EB-5 initiative, which was launched in 1990, has gained traction in the wake of the 2008 financial crisis. According to statistics from U.S. Citizenship and Immigration Services, applications from EB-5 investors stood at 17,691 in 2015. That's up from 11,744 in 2014 and 6,554 in 2013 – a spike of 270 percent in just two years.
Despite the rapid growth, some observers said there should be more protections for investors plunking down money through the initiative. Because the visas are contingent on projects creating at least 10 jobs, if a development fizzles, there can be issues with the green cards beyond applicants' control, according to Angelo Paparelli, an immigration attorney at downtown's Seyfarth Shaw.
"There are investors who fall victim to fraudsters, and there needs to be some integrity measures that make sure investors have a soft landing," Paparelli said.
Those measures could include allowing investors to stay in the United States on a temporary basis as conditional residents or allowing them to put money toward another EB-5 project.
Given the deluge of applicants, the simplest solution might be to raise the number of visas handed out through the program, according to attorneys. The annual cap of 10,000 EB-5 visas represents 1 percent of the visas handed out by the federal government each year. But that number is deceptive because the program includes visas given out to the spouses and children of EB-5 investors in its quota.
While predicting what President-elect Donald Trump might do is difficult, Paparelli said the EB-5 program could be something he chooses to expand rather than curtail given the direct U.S. job-creation component. What's more, his son-in-law, Jared Kushner, raised $50 million in EB-5 funds to help finance a 50-story, 447-unit apartment tower in Jersey City, N.J., in 2014.
"The Trump family has used EB-5 money in its capital stack for their developments, so there might be some affection for the program," Paparelli said.
For reprint and licensing requests for this article, CLICK HERE.