Scaling Heights
SpaceX weighs in with Falcon Heavy as low-cost satellite launch option
Friday, December 16, 2016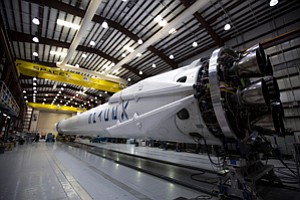 When SpaceX's Falcon Heavy lifts off in the second quarter of next year it will rank as the most powerful operational rocket in the world by a factor of two, though it is expected to cost millions less than its nearest American competitor.
The rocket, which would potentially cost between $180 million and $200 million when fully loaded, could shake up the heavy lift segment of the commercial launch services industry – one of the few remaining sectors not yet conquered by Hawthorne's Space Exploration Technologies Corp., or SpaceX, led by Chief Executive Elon Musk.
Heavy lift rockets are often used to push large geosynchronous satellites into orbit. The expensive but potentially lucrative communications spacecraft transmit telephone calls and TV broadcasts.
"The Falcon Heavy would significantly alter the upper limit," of rocket launches, said Chad Ohlandt, an engineer at Rand Corp.'s Arlington, Va., office. "It certainly puts their competition under pressure."
The Falcon Heavy actually consists of three SpaceX Falcon 9 rocket boosters strapped together that have the capability of landing vertically back on Earth. Should SpaceX prove able to stick the landing of its rocket engines on a consistent basis, the price for the Falcon Heavy could go even lower because the company wouldn't have to build rockets from scratch each time.
Though the long-term impact of such a vehicle is potentially enormous, said analysts, the intricacies and hiccups of the rocket science business should shield SpaceX's closest rivals from the full blast of the Falcon Heavy over the short term. SpaceX's American rival in the sector is the Delta IV Heavy rocket manufactured by United Launch Alliance of Centennial, Colo. The Delta Heavy rocket, which is mostly used by the U.S. military, costs about $350 million.
Despite the potential price differential, satellite operators have schedules to keep and are loath to be chained to one launch provider, said Bill Ostrave, an analyst with Forecast International Inc. in New York.
"The satellite operators like to have a choice," he said. "They are willing to provide contracts to different launch providers in order to maintain a competitive launch industry, even if one is a little more expensive than the others."
The Sept. 1 prelaunch explosion of a SpaceX Falcon 9 rocket, which has halted the company's launch schedule as it investigates the incident, has also hindered the Falcon Heavy plans.
Successfully launching rockets on schedule matters for satellite operators who sink hundreds of millions of dollars and years of work into hardware in the hopes of efficiently recouping costs by bringing those broadcast systems online quickly, said Phil Smith, a senior space analyst at Tauri Group of Alexandria, Va.
"Launching enables satellite companies to generate revenues," he said. "Around $120 billion per year is generated up there (in space) in terms of the revenue from satellites."
SpaceX executives, through a spokesman, declined to comment.
Bigger better?
The ability to carry heavier payloads into orbit comes with several benefits for SpaceX and its customers. For starters, shipping satellites in bulk could prove more cost-effective.
"It's basically like trucking or shipping. The bigger the vehicle, the greater the volume and capacity, and the lower the price per kilogram," said Tauri's Smith. "You get more bang for your buck."
Launch companies charge customers $25,000 a kilogram to $50,000 a kilogram on smaller vehicles, while the Falcon Heavy costs just $3,300 a kilogram, said Smith.
Second, the ability of the Falcon Heavy to lift 22,000 kilograms to geostationary transfer orbit – a distance more than 26,000 miles above sea level – creates a way for SpaceX to capture a larger share of the lucrative geosynchronous communications satellite launch market. The satellites are operated by firms such as communications company ViaSat Inc. of Carlsbad and El Segundo-based satellite TV provider DirecTV, which is a subsidiary of AT&T.
"Geosynchronous orbit is where the money is made," said Smith. "That's prime real estate for communications."
However, it's one thing to aspire to greater heights and quite another to get there on time, argue SpaceX's rivals.
"The geosynchronous orbit customer today is really struggling with getting their launches off on time," said Kirk Pysher, president of Russian-owned International Launch Services, whose low-cost Proton-M heavy launch vehicle is likely to be impacted by the Falcon Heavy's entry into the market, according to several analysts.
In light of SpaceX's freeze on rocket launches and its subsequent $10 billion backlog of launch manifests, ILS is carving out room in its schedule to accommodate last-minute customers who, often for regulatory reasons, can't wait around for SpaceX to resume operations.
"We have the capability to insert people in the manifest," said Pysher. "It's definitely a way to capture more business."
SpaceX rival Arianespace of France is taking the same approach. Citing delays, British telecommunications firm Inmarsat announced this month that it would pull some of its business from SpaceX's Falcon 9 and instead launch its communications satellite in the middle of next year on Arianespace's heavy lift vehicle the Ariane 5.
Arianespace and United Launch Alliance also have been touting the reliability of their launch records in the wake of SpaceX's setback. For example, Arianespace has successfully launched 75 vehicles in a row and placed 149 satellites to orbit without incident since 2002. Unlike SpaceX, however, Arianespace is not trying to land its rockets back on Earth, a process that carries added complications.
Arianespace's record hasn't been matched by other launch service providers, said company spokesman Aaron Lewis in a statement.
"We provide a level of predictability that allows satellite operators to abide by their business plans and meet regulatory deadlines," he said.
Despite their confidence, ULA, ILS, and Arianespace all claim to be working on bigger rockets and are actively cutting costs for their existing launch vehicles.
"It has motivated its competitors to step up their game," said Tauri's Smith.
For reprint and licensing requests for this article, CLICK HERE.