Sports Network Teems With Subscription Issues
TV: Analysts offer advice on how Disney could tackle ESPN's viewership decline.
Friday, December 9, 2016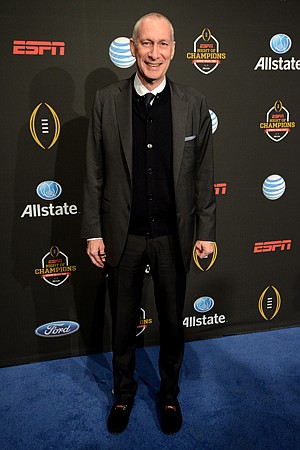 Walt Disney Co.'s 2016 annual report revealed that ESPN, its prized sports cable network, lost 2 million subscribers during the fiscal year ended Oct. 1, bringing its total to 90 million. That's the network's lowest tally since 2005. Many think Disney Chief Executive Robert Iger and the studio's board should do something to turn things around at the network that bills itself as the "Worldwide Leader in Sports." Here are five suggestions from analysts and media watchers for how Disney can fix its ESPN problem.
1. Buy Netflix.
One way to solve the cord-cutting issue is to acquire a streaming platform, such as Netflix, where ESPN content could live – and be sold as a premium add-on to digital subscribers. "We are (perhaps surprisingly) open to it," Todd Juenger, an analyst at New York's Sanford C. Bernstein & Co., said in a Dec. 1 research report. While he has no knowledge if a deal is even on the table, Juenger said it would represent a "dilutive, transformational event" that could be valued in the neighborhood of $70 billion. Should Disney take the plunge, it would likely signal the demise of the studio's core TV network business, said Juenger. "We believe the demise will happen anyway," he added. "It is better, then, to own the winning solution."
2. Boost digital presence.
The news isn't all bad at ESPN, said analyst Stan Meyers of New York-based Piper Jaffray. He noted that the division, helmed by John Skipper, is in fact still growing – albeit at a slower pace than it has been in the past. He said Disney's losses in traditional cable subscribers have been slowed in part by the migration of some viewers to Disney's newer digital offerings, which haven't yet been captured by Nielsen. Meyers added that Disney's $1 billion August investment in BAMTech, a video-streaming company created by Major League Baseball, is likely to continue that trend. Disney plans to use the company to launch its own multisport streaming platform next year.
3. Nontraditional content.
Legacy media networks across the board are looking to capture the coveted viewers in their 20s and 30s as they flee traditional TV for online content. Disney could try to diversify its ESPN programming slate with innovative offerings aimed at younger, more digitally inclined viewers. "Global spectatorship of video-game competitions – that's where the audiences are going," said Chris Smith, a professor at USC's Annenberg School for Communication and Journalism and co-director of its media, economics, and entrepreneurship program. Others are calling for more interactive, tailored content that will resonate with younger viewers – perhaps on a social platform such as Twitter. "Even if it's free online, the form the younger generation wants is short and laser-like," said Richard Marks, a partner at Beverly Hills entertainment law firm the Point Media.
4. Speed up pace.
Some experts attribute declining viewership of National Football League games this season on ESPN and other networks to the distraction of the tumultuous presidential election, while others think it's a sign of a bigger shift in generational viewer preference or perhaps a reaction to the game's presentation. "It used to be the most TV-friendly sport," Smith said. "Now, there's too much stoppage of play and too many commercials. Given how much of a bet they've placed on NFL football, they're going to have to do some research with the league on the flow of the broadcast to make it more attractive for the viewer."
5. Divest.
Some analysts have taken a more negative view. Steven Cahall, a media analyst at New York-based RBC Capital Markets, wrote in a research memo last week that a sale or spin-off of the ESPN unit would better position Disney for future mergers and acquisitions. Cahall pegged a potential deal for the sports network in the ballpark of $29 billion. An ESPN spokeswoman said in an email that, "No one is navigating change better than Disney and ESPN."
For reprint and licensing requests for this article, CLICK HERE.