Recycling Yard Doubles Price Tag in Latest Deal
SALE: $10 million pickup touted as growing pull of downtown's Arts District.
Friday, December 9, 2016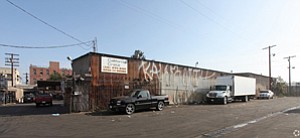 A former cardboard recycling yard in downtown's Arts District recently sold for just over $10 million, more than double the price it fetched only two years ago, a sign of quickly rising land values in a fast-developing market.
Vancouver, Canada-based Onni Group purchased the 38,266-square-foot site in an off-market deal on Nov. 11, according to a source familiar with the deal. In 2014, Core Development picked up the plot for $3.9 million, according to public records.
The parcel, formerly operated by California Crate, sits on Violet Street a block from Italian restaurant Bestia; furniture store HD Buttercup; and the Ford Factory, an office building that Warner Music Group recently signed a lease to occupy in full.
CBRE Group Inc. Senior Vice President Brandon Burns, who represented Core in its 2014 purchase and in the recent sale, along with Brandon Gill and Jae Yoo, said deep-pocketed investors are latching on to business opportunities in an area that until recent years attracted scant attention.
"You have a small market adjacent to downtown that has all these qualities, and in hindsight, you wonder why it didn't happen earlier. You could argue we're just catching up," Burns said. "There were some local pioneers with vision, but the real values came along when larger investors from out of the area started seeing its potential."
Big New York property owner Tishman Speyer, which owns Rockefeller Center, purchased two Arts District office buildings leased by Hyperloop One last month for about $25 million. That's more than triple the price paid by sellers Borman Group and Lion Real Estate, which purchased the buildings for a total of $7.8 million between 2014 and 2015.
Onni, a developer of multifamily projects that recently purchased the headquarters building of the Los Angeles Times and plans to convert a portion of it to residences, did not disclose plans for the site on Violet. It's possible that a pair of city ballot initiatives targeting large development would restrict the property's options.
An Onni representative declined to comment.
Build Better L.A., a ballot measure approved by voters in November, puts labor and affordable housing requirements on multifamily development. The Neighborhood Integrity Initiative, headed for the March ballot as Measure S, would put a two-year ban on any projects that require major planning variances.
But Onni appears gung-ho on downtown, with the Arts District site marking its 10th acquisition in the area.
In addition to its $105 million deal for the Times building in September, it owns six other office properties and two multifamily buildings downtown and has two other multifamily projects in the planning or construction phase.
Industrial Redo
Industrial landlords near the ports of Los Angeles and Long Beach are beginning to upgrade their facilities to meet the increasingly heavy demands of e-commerce.
In Compton, PGIM Real Estate just completed a four-month, multimillion-dollar renovation of its Dominguez Hills Industrial Center, which sits on nearly 5½ acres. The biggest transformation to the 34-year-old property was scraping away 10,000 square feet of offices to expand the truck yard, which is crucial to attract logistics companies.
"It was functionally obsolete," said Steve Bohannon, a senior director at Cushman & Wakefield who is marketing the building for lease. "It didn't have the yard depth that would accommodate truck maneuverability."
The South Bay's industrial market hit a record low vacancy of 1 percent in the third quarter, according to Cushman & Wakefield. With that kind of market tightening, Bohannon expects more landlords to take on similar renovations.
Thinking Twice
For postproduction companies in growth mode, taking on space means planting a flag in two markets on the opposite sides of Los Angeles – the Westside and Burbank.
"There's a need in that industry to have two points on the greater Los Angeles map to service all the local major production houses," said Nico Vilgiate, executive vice president at Colliers International. "The trend appears to be to have two locations."
Pixelogic and Hula Media Post are doing just that by expanding in Burbank while keeping space on the Westside, he said. In two recent deals at 4000 W. Alameda Ave. in the Burbank Media District, Pixelogic leased 16,680 square feet, while Hula leased 20,740 square feet. Both are long-term leases.
Vilgiate represented landlord Alameda Enterprise Inc. with Kyle Stanich, CBRE's Matthew Perlmutter represented Hula, and Savills Studley's Andrew Lustgarten represented Pixelogic.
Staff reporter Daina Beth Solomon can be reached at dsolomon@labusinessjournal.com or (323) 556-8337.
For reprint and licensing requests for this article, CLICK HERE.