Launch in January Could Prove Big Lift to SpaceX's Schedule
A Look Ahead: What's on the agenda for Los Angeles business in the coming week
Friday, December 9, 2016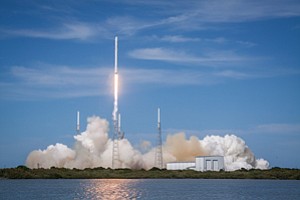 Space Exploration Technologies Corp., or SpaceX, is aiming to launch another rocket early next month, which would be its first attempt since a Sep. 1 explosion prompted the Hawthorne aerospace company to halt its launch schedule as it investigated the cause of the incident.
An accident-free resumption of space flight for SpaceX, which must also be given the green light by the Federal Aviation Administration, is paramount for the rocket manufacturer as it tries to reassure satellite customers that it can efficiently work through its backlog of more than $10 billion worth of launch orders. Citing delays, British telecommunications firm Inmarsat announced last week that it would pull some of its business from SpaceX, and instead launch its communications satellite in mid-2017 on France-based rival Arianespace's heavy-lift vehicle.
SpaceX's customers are hotly anticipating the results of the company's investigation, said Andrew Nelson, chief executive of Nelson Aerospace Consulting Associates of Fort Worth, Texas.
"Customers are going to look and say, Can I wait for the launch or do I need to move to another launcher?" he said.
The explosion of SpaceX's Falcon 9 rocket on the launch pad at Cape Canaveral, Fla., destroyed the vessel's payload: a $200 million AMOS-6 communications satellite manufactured by Israel Aerospace Industries.
To allay the worries of its customers, SpaceX is trying to conclude its rocket investigation this month and relaunch early next year – a turnaround much faster than industry rivals have historically achieved.
"It typically takes nine to 12 months for people to return to flight," Tory Bruno, chief executive of United Launch Alliance, told Reuters in September.
Returning to flight quicker than that has proved difficult for SpaceX. Chief Executive Elon Musk deemed the rocket mishap the most difficult and complex failure in the company's history.
Under the supervision of the FAA, the company's engineers are scouring through approximately 3,000 channels of engineering data along with video, audio, and imagery to determine the cause of the explosion, according to the firm's website. In an attempt to gather more information, Musk in September appealed to Twitter followers to send in home videos of the rocket explosion. The company even looked into the prospect of sabotage for a short time.
"It's the unknown unknowns that end up failing," said Nelson. "It takes an incredible amount of time and patience to narrow these things down, especially when you have a type of failure that is really unexpected."
Due to the complexity and sensitivity of the accident investigation, targeted launch dates in November and December were pushed back.
Nonetheless, those delays will likely be seen as just a bump in the road in the long run, said Nelson.
"They are much more interested in making sure that these things fly properly than meeting a deadline," he said. "You'd much rather have a product that works then rush to meet a deadline and through that pressure have an accident."
For reprint and licensing requests for this article, CLICK HERE.