Floravere Hitches Wedding Gowns to Online Sales Strategy
INTERNET: Engaged Online
Friday, December 9, 2016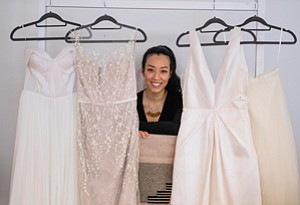 Kang, who previously worked as a manager of strategic planning at Guess Inc. and as a senior associate consultant at Bain & Co., tested her idea for two years while attending Stanford University's Graduate School of Business. She graduated last year and was able to raise an undisclosed sum from friends, family – and even one of her professors.
Kang brought the idea to Mucker, which also invested in the company, shortly after graduation to further develop the business.
Floravere contracts with designers who have worked at luxury wedding labels to create its namesake collection, which is designed and manufactured in New York.
Brides select up to three sample gowns to try on at home for $45 each and have three days after receiving their bridal box to return the samples at no additional cost. Kang said Floravere will also roll out plans this month that allow brides to order unlimited samples as well as request extra time to try them on. While those out-of-pocket costs can add up, they are deducted from the bill if the bride orders a dress from Floravere. According to Kang, the company has so far accumulated a list of more than 2,000 interested customers.
The idea is to allow brides to host try-on parties with friends in the comfort of their home, as opposed to heading to a retail shop where appointments often are capped at an hour. Customers can also customize their chosen gown with alterations such as a raised neckline, added train, or a monogram in blue stitching for an additional fee ranging from $50 to $200. Veils are available starting at $85.
Kang said Floravere is able to offer competitive pricing because the company ships directly to consumers rather than sending large orders to retailers. Also, because wedding labels show their collections in the spring and fall, Floravere makes a point of contracting with designers during the off-season when their rates are cheaper.
"We try to take advantage of the free capacity between shows and release collections off calendar," she said. "It allows us to be flexible and nimble … and react to trends or what customers might be seeking."
Andrew Blackmon, co-founder and co-chief executive of Santa Monica online suit and tuxedo rental Black Tux said the real challenge when it first launched was the logistics side of the business – not the marketing.
"To be honest, marketing in the wedding space is less challenging," said Blackmon, whose business also incubated at Mucker. "The hardest part of the business ended up being operations and the easiest was marketing."
For reprint and licensing requests for this article, CLICK HERE.