Floravere Hitches Wedding Gowns to Online Sales Strategy
INTERNET: Engaged Online
Friday, December 9, 2016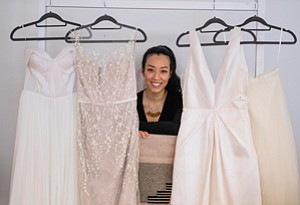 Brides will spend months searching for the perfect dress – booking appointments at bridal shops with bridesmaids in tow then waiting up to six months for the dress to be made.
The long process can be stressful, but Santa Monica startup Floravere wants to take the hassle and hefty price tag out of the equation.
The online bridal shop, founded by Molly Kang, launched last month out of Santa Monica tech accelerator MuckerLab.
Kang said she had heard from friends how much of a pain dress shopping is, but it wasn't until her own engagement that she understood why.
"I had a six-month engagement," Kang, 29, said. "I thought, OK, I'll take my time and go wedding dress shopping later. But (shops) wouldn't even take an appointment because to order a dress takes six to nine months."
Plus, brides who spend more than $10,000 on dresses from high-end labels often have to wait more than six months to receive the finished product – a big pain point in the industry, said Kang. That's the type of customer that Floravere is zeroing in on, at least for now.
"We think our customers are the slightly savvier consumer (who) wants a beautiful dress with high-end materials that feels nice, but it doesn't have to have the Vera Wang name on it," said Kang. "That's the women we're targeting."
Floravere lets brides try dresses – made by former designers at luxury labels such as Dior, Zac Posen, and Reem Acra – at home. Once a bride has made her pick, she can order a customized version of one of Floravere's seven dresses and receive it within three to four months. The price of a gown ranges from $1,550 to $3,550, and additional styles are due in February.
According to Brentwood research firm IBIS World, the average cost of a wedding dress in 2015 was about $1,700.
Strategic shift
Dan Wallace-Brewster, vice president of corporate marketing for El Segundo e-commerce services company Onestop Internet, said Floravere's model represents a drastic strategic departure in an industry known for tight-knit and incestuous relationships between vendors who promote each other's services.
"It's very much a disruption that can work in their favor," Wallace-Brewster said. "But it goes back to the fact that in an ideal circumstance you only want to do this once. Are you going to try something that's a totally new concept or go with what's tried and true? It seems to me that it's going to be hard to convince a new bride to try this concept."
Prev Next
For reprint and licensing requests for this article, CLICK HERE.