Investment firm looks to prove metal with $150 million zinc deal
Deal of the week: A look at the companies that signed on the dotted line last week.
Friday, December 2, 2016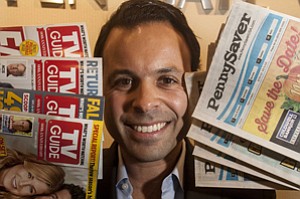 OpenGate Capital's newest acquisition is a key cog in the Century City private equity firm's plan to exploit niche cross-border opportunities overlooked by other outfits.
The deal, a $150 million corporate carve-out of the zinc products wing of Belgian materials technology company Umicore, is indicative of the types of investments OpenGate is looking to make, said Andrew Nikou, the firm's founder, managing partner, and chief executive.
Umicore Zinc Chemicals – now rebranded as EverZinc – was particularly attractive to OpenGate, said Nikou, given widespread demand for the metal in a number of different industries.
"The beautiful thing about the business is that it's not a one-trick pony," he said. "We especially liked the business because it's a metal that is a need-to-have as opposed to a want-to-have."
OpenGate has set a goal to double EverZinc's earnings before interest, taxes, depreciation, and amortization, over the next four years. Nikou said the company, which specializes in making fine zinc powders, zinc oxide, and zinc for batteries, generated approximately $425 million in revenue last year.
"The company has deep relationships with a blue-chip customer base that we think we can cross-sell to with the addition of a few bolt-on acquisitions," Nikou said.
However, some analysts have speculated zinc prices could soften if the Chinese construction market falters or another global recession occurs. While the metal rose above $2,800 a ton late last month – a nine-year high – it dropped 6 percent on Dec. 1.
Nikou said the buy wasn't contingent on continued price increases.
"None of our portfolio companies' growth is focused on macroeconomic shifts," he said. "(Zinc) prices will certainly fluctuate, but that won't be a big factor in our margins."
The deal, which closed on Nov. 28, came out of OpenGate's $305 million institutional fund that closed in July. The firm used about $55 million in equity and $95 million in debt to complete the Umicore purchase.
The investment isn't just a big one from a dollar perspective. It's also a logistics and management challenge, according to Nikou, given the company's 500 employees are scattered across Europe, Malaysia, and China. That global reach also made things a little more difficult from a deal perspective. While OpenGate initially approached Umicore in January, it took the parties 11 months to iron out the details. The Belgian company was particularly concerned about regulatory and compliance issues as well as minimizing its post-transaction liability, said Nikou.
"Umicore wanted someone who could integrate the business seamlessly," he explained. "It's a big concern for European companies."
For reprint and licensing requests for this article, CLICK HERE.