Hanjin Shipping Files for Bankruptcy
Wednesday, August 31, 2016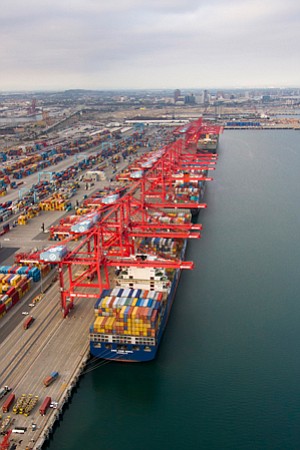 Hanjin Shipping Co. Ltd. filed for bankruptcy protection Wednesday after negotiations with creditors failed, sinking the seventh-largest cargo container carrier in the world and one of the largest shippers at the Port of Long Beach.
According to a report by Reuters, the South Korean company's assets were being frozen around the world and in some cases its ships were being turned away at ports for fear they wouldn't be able to pay docking fees, but so far that didn't appear to be the case in Long Beach.
"So far it's still business as usual. We haven't heard anything yet," said an employee who didn't want to provide his name at Total Terminals International, which operates the port's largest terminal, Pier T.
Hanjin owns a majority share in TTI, and its terminal is the Long Beach's largest, handling about one-third of all cargo there. Other shippers pay to use Pier T as well, while Hanjin's vessels make up about one-third of the pier's traffic, according to port officials.
The TTI employee said two ships were scheduled to arrive today, one from Greece and another from Montevideo, Uruguay.
Whether vessels will continue to arrive for now, or be able to leave for their destinations, remains to be seen. Reuters reported that vessels in China, Spain, and Savannah, Georgia, have been blocked from docking.
The long-term impact raises bigger questions about Hanjin's presence in Long Beach. Port officials have said if Hanjin leaves Pier T, they should be able to find a replacement carrier because the terminal is large, modern, and in-demand.
Hanjin's parent company, Hanjin Group, also owns Korean Air, but representatives of the company said Tuesday that neither the airline nor its downtown Los Angeles skyscraper that's under construction, the Wilshire Grand Center, should be affected because they are separate business entities.
Hanjin's court receivership filing seemed a strong possibility after Hanjin's creditors on Tuesday rejected its restructuring plan, which required the company to come up with $1.1 billion in liquidity. While the shipping industry has struggled with low demand and prices, this would be the largest carrier to go under in recent memory.
Reuters reported that a South Korean judge said it could take up to a couple of months to determine whether Hanjin should remain in some form or be dissolved.
For reprint and licensing requests for this article, CLICK HERE.