A Look Ahead: What's on the agenda for Los Angeles business in the coming week
SHIPPING: Bankruptcy of Hanjin could hurt tide of cargo at Long Beach port.
Friday, August 26, 2016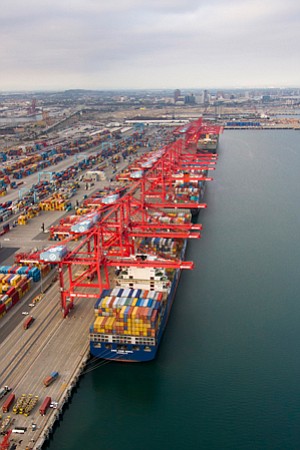 Embattled South Korean cargo container carrier Hanjin Shipping Co. Ltd. should soon know whether it will avoid bankruptcy as it approaches a Sept. 4 deadline for its $1.1 billion liquidity plan.
The company was expected to offer its proposal last week to its largest creditor, Korea Development Bank, which must sign off on the deal. However, a few details still need to be ironed out before the deadline. Hanjin Shipping plans to meet with its creditors on Sept. 2 to seek approval of proposed deferment and equity conversions from bondholders to finalize the liquidity plan, and also is working to renegotiate charter costs on its leased cargo ships.
The Hanjin Shipping deal could have far-reaching impacts at the dozens of ports around the world where the company moves as much as 100 million tons of cargo annually – particularly at the Port of Long Beach.
If the plan is accepted, South Korea's largest shipping company could avoid being placed under court receivership. Otherwise, it would be one of the largest and most visible carriers to go bankrupt in recent years.
"Of all of the major container lines, they're probably the ones closest on the ropes," said Mark Szakonyi, executive editor of JOC.com, the online arm of the Journal of Commerce, who covers container shipping and the international supply chain industry.
According to an analysis by JOC.com and Piers, a unit of IHS Inc., Hanjin Shipping's U.S. imports fell by 4.2 percent through the first half of the year, while exports fell by 14 percent. Hanjin called those numbers skewed because they don't take into account U.S.-bound cargo that entered North America through the Prince Rupert port in Canada. Hanjin Shipping reported a net loss of $221 million in the first quarter of this year and a second-quarter net loss of $182 million.
Hanjin Group, the shipping company's parent, has pledged to give its subsidiary a $400 million infusion to help it meet its liquidity goal, according to spokesman Mike Radak. Hanjin Shipping has also been divesting itself of nonessential assets to raise another $400 million, he said.
The carrier has also considered selling its Long Beach terminal to Hanjin Transportation, another business under the umbrella of Hanjin Group, said Radak.
That terminal, Pier T, is operated by Hanjin Group-owned Total Terminals International and is the largest by acreage at the port, handling about 2 million TEUs (20-foot equivalent cargo containers) a year, about one-third of the port's total cargo. Hanjin Shipping is the primary carrier at Pier T, but several other shipping companies pay it for access.
Hanjin Shipping is not the only shipping company suffering financial problems as the global industry struggles with slumping demand and prices. Another South Korean carrier, Hyundai Merchant Marine, is also in dire economic straits.
Hanjin Shipping is trying to right the ship by partnering with five other cargo carriers, including Hapag-Lloyd and K Line, in an alliance designed to better control the supply of freight space on their vessels and drive up the cost per container. Known as the Alliance, the five-year partnership will go into effect in March.
For reprint and licensing requests for this article, CLICK HERE.