Fish Sequel 'Dory' Had Right Hook for Summer
FILM: Disney came out on top in season loaded with family, animated offerings.
Friday, August 19, 2016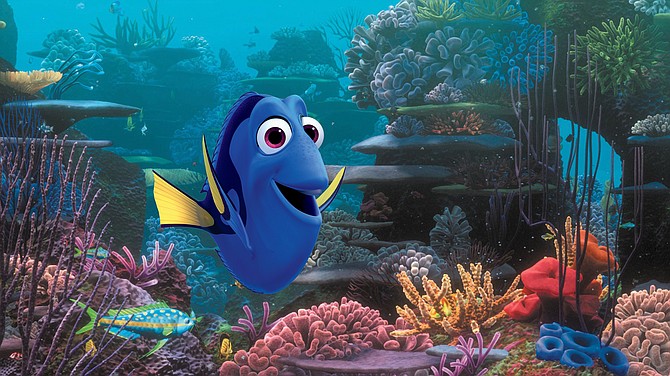 Hollywood bet big on families and pets this summer – and it's paying off.
"Finding Dory," Walt Disney Co.'s long-anticipated Pixar sequel about a fish voiced by Ellen DeGeneres, swam into first place for the summer and the year with $476 million in domestic box office. "Dory" has already blown away projections from analysts and is on pace to reach $1 billion internationally before year's end.
"The big story this year is how top heavy the entire market has been with family movies and with animated fare especially," said Nashville, Tenn.-based Shawn Robbins, senior analyst at box-office analytics firm BoxOffice.com.
Disney sits firmly at No. 1 for the summer and for the year so far in terms of market share, up from its previous spot at No. 2 last year and in 2014. The studio holds 27 percent of the market with more than $2 billion in gross receipts this year thanks to "Dory" and Marvel's "Captain America: Civil War."
"Disney was the runaway winner this summer," said Robbins, "but Universal Studios and Warner Bros. were both solid."
Universal's "The Secret Life of Pets" from Illumination Entertainment took a bite out of the lead "Dory" had established when it opened on July 8.
"We were pretty bullish on it, but it was an even bigger hit than we expected," said Robbins of the $104 million opening and $338 million domestic gross total thus far. That film helped the studio to a No. 4 ranking at the box office for the year, down from its No. 1 spot last year, which was boosted by blockbuster "Jurassic World."
While some outside events such as the Olympics can affect movie attendance, the Rio Games have not made much of a dent in box-office receipts. During the past two summer Olympic Games, gross box-office receipts dipped about 1 percent. This year, Warner's comic-book tale "Suicide Squad" broke August box-office records with a record $229 million domestic opening, pushing the studio up 30 percent over last year in gross receipts to land at the No. 2 spot behind Disney.
Robbins and his team of analysts are projecting the summer to total just over $4.4 billion, which will come in just under last year's $4.49 billion.
Foreign affairs
Disney overtook Universal this summer with a strong slate of hits domestically and abroad. But a new model of distribution in terms of timing and territories is emerging.
"You have to look at release dates. That's one of the key decisions in distributing any movie," said Jason Squire, associate professor at USC's School of Cinematic Arts. "But a movie like Disney's 'Civil War' is a model for the future: 65 percent of its receipts came from overseas."
While Universal's video game-inspired "Warcraft" disappointed with just $47 million at the U.S. box office, it brought in $386 million overseas. Squire pointed to other domestic duds this summer that fared better internationally than they did stateside as evidence studios will continue to invest in foreign market-friendly fare.
"This demonstrates the global marketplace very well," said Squire. "There's potential to make 65 percent or more outside of the U.S."
Much less dependable this summer were the sequels and reboots, which were hit or miss, according to Robbins. 20th Century Fox Film Corp., which turned out megahit "Deadpool" earlier this year to help the studio to a No. 3 spot in overall market share thus far, failed to produce any major successes this summer with its franchise sequels. Its "X-Men: Apocalypse" brought in $155 million domestically on a $178 million budget and "Ice Age: Collision Course" brought in a disappointing $59 million on a $105 million budget. Paul Feig's "Ghostbusters" reboot of the 1984 classic for Sony Corp.-Columbia Pictures failed to meet expectations when it opened to just $46 million on a $144 million budget.
"It's hard to follow up a classic," said Robbins. "Sometimes even the good ones are victims of the ones that come before it."
Paramount Pictures, a unit of embattled Viacom Inc., moved up from No. 6 the past two years to land in the fifth spot with more than 7 percent market share and $544 million in gross box-office receipts, thanks to the success of its "Star Trek Beyond" sequel, which opened at No. 1 and took in $141 million. The studio's ambitious revision of the Academy Award-winning classic "Ben-Hur" – the last tentpole of the summer – was not expected to fare as well when it hit theaters Aug. 19.
For reprint and licensing requests for this article, CLICK HERE.