I-15 Reopens, Some Train Routes Still Closed in Cajon Pass
Thursday, August 18, 2016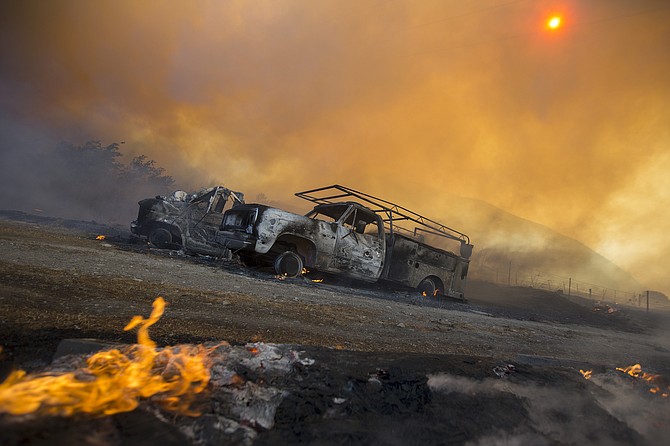 Caltrans reopened the 15 Freeway in both directions Thursday morning, two days after wildfires closed the major shipping corridor through the Cajon Pass, but some train routes were still delayed.
California Department of Transportation officials said the southbound lanes were reopened at 10:45 a.m., after the northbound lanes were cleared Wednesday night. Fueled by dry conditions, heat and wind, the wildfire has reportedly burned more than 30,000 acres and forced more than 80,000 people to evacuate their homes.
At the same time, it has slowed Southern California's major shipping operations rooted at the ports of Los Angeles and Long Beach, which together handle more than 40 percent of U.S. imports.
"It is definitely having an impact on the goods and slowing things down," said Phillip Sanfield, spokesman at the Port of Los Angeles, adding that the delays still haven't caused major disruptions yet.
About 5,500 trucks travel through the Cajon Pass going to and from the twin ports, while about 50 trains leave the ports each day carrying goods destined for thousands of U.S. cities.
"People across the country depend on the cargo that's being shipped on trains through that corridor," said Lena Kent, spokeswoman for BNSF.
The railroad has three rail lines in the Cajon Pass, two of which were reopened Wednesday night, she said. The company was awaiting the all-clear signal to open the last line Thursday.
Up to 90 BNSF trains move through the pass daily, both carrying goods from the port and local manufacturers, and bringing in exports and products for Los Angeles consumers from other U.S. regions, Kent said.
"We are informing our customers that they should expect a 36- to 48-hour delay," she said.
The other major railway operating at the ports, Union Pacific, has a single line through the Cajon Pass, and that remained closed as of noon Thursday, said spokesman Justin Jacobs.
"Our line that runs through that corridor is still closed because we had a bridge damaged by the fire," he said.
The bridge was under repair and Union Pacific hopes to reopen it over the weekend or early next week, Jacobs said.
Unlike BNSF, Union Pacific has two other train routes, one heading north along the coast and the other southeast toward Yuma, Arizona, he said. Still, the Cajon Pass is Union Pacific's most traveled Los Angeles route, with 40 to 70 trains daily, Jacobs said.
Officials at the two railroads said they have been helping each other out by sharing available tracks to reroute their trains.
Cargo trucks also have been forced to delay their shipments on the 15 or find alternate routes, but those are easier to come by than with the fixed rail on which trains rely. Railroads are an essential piece of U.S. cargo movement – Kent said each train carries the equivalent cargo of 280 to 400 trucks.
Trade, transportation, and manufacturing reporter Paul Eakins can be reached at peakins@labusinessjournal.com. Follow him on Twitter @Pauleakins.
For reprint and licensing requests for this article, CLICK HERE.