Online Postage Company Adds Shipping to Bag
INTERNET: Stamps.com's acquisitions continue to deliver for shareholders.
Friday, August 12, 2016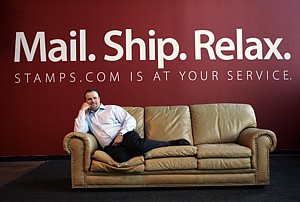 Sending out resume after resume one night while a student at UCLA's Anderson School of Management, James McDermott ran out of stamps.
And so was born Stamps.com in 1996, today a $1.5 billion company that is among a small handful of L.A. tech firms that survived the dot-com bust more or less intact. McDermott has since left the El Segundo online postage seller, but the company continues to grow, completing a series of acquisitions over the last couple of years that have allowed it to enter the high-volume shipping market.
The most recent deal was the July acquisition of Austin, Texas-based ShippingEasy for $55 million. The firm's software integrates with e-commerce platforms to fulfill orders through multiple carriers.
"E-commerce-driven package shipping is our fastest-growing segment and this acquisition will allow us to continue to accelerate our growth in this area," Ken McBride, Stamps.com's chairman and chief executive, said in a statement after the deal.
The company acquired two similar shipping sites in 2014 that allow online sellers to fulfill orders: ShipStation, also of Austin, for $50 million; and ShipWorks of St. Louis for $22 million. In addition, Stamps.com acquired rival postage e-tailer Endicia of Mountain View in November for $215 million.
Analysts said the acquisitions are part of the company's efforts to go after new customers.
"Initially, they were going after mailers: a lawyer's office, accountant's office, somebody sending out a lot of invoices. They were replacing the traditional postage meter," said Kevin Liu, an analyst at B. Riley in West Los Angeles. "Now they're moving into e-commerce."
The company posted an average 16.2 percent return on equity over the last three years, placing it at No.19 on the Business Journal's list of most profitable public companies. Stamps also generated $84 million in revenue for the quarter ended June 30 – a 74 percent spike compared with the same period last year.
Footing bill
Despite these financial figures, Stamps.com has faced backlash from some consumers – and authorities – concerning its billing practices.
The company paid $2.5 million in penalties in September to settle a false advertising lawsuit brought by the district attorneys of Santa Clara and Santa Cruz counties.
The suit claimed Stamps.com did not "clearly and conspicuously" disclose to people signing up for a "no-risk" trial that they would be automatically enrolled in a $16 monthly subscription plan after the trial's conclusion. As part of the settlement, the company agreed to pay up to $1.5 million in restitution to customers and update its website to make the terms clearer.
However, B. Riley's Liu said he isn't concerned about the company's business model.
"I think the results speak for themselves," he said. "If there were truly that number of complaints, the company wouldn't make any money. As the company grows revenues, it speaks to the value of the service."
For reprint and licensing requests for this article, CLICK HERE.