Vehicle-Sharing Service Taps Electric SUV Buzz
TRANSIT: New venture to allow customers to order rides in Tesla's Model X.
Friday, August 5, 2016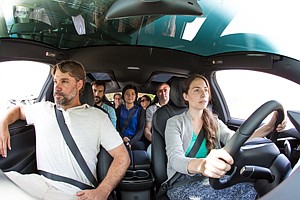 A new vehicle-sharing service is being launched to fight traffic congestion on L.A. roads.
Downtown's Green Commuter will offer its users vanpool services using Tesla Motors Inc.'s Model X all-electric SUVs.
"Our goal is to provide a great vanpool and car-share experience which is affordable, desirable, and sustainable," said Gustavo Occhiuzzo, chief executive at Green Commuter, in a statement. "We are starting in Los Angeles, one of the most forward-thinking cities in the country, but one that has great environmental challenges and congestion issues."
The company chose the seven-seat Tesla due to the vehicle's capacity and an ability to drive more than 200 miles on a charge.
Green Commuter owns a single Tesla, but plans to expand its fleet to 50 by the end of the year.
Riders will be able to lease vehicles on a monthly basis. Vanpool services will be available for $10 an hour and $150 for a weekend. Car-sharing, which will launch in November, will cost $19 an hour with $50 annual membership. Riders will also have an option to purchase monthly memberships for $100 and $250.
"We are excited that electric cars will be available to people with any income," said Leslie Graham, co-director of grants and partnership at Green Commuter.
An app will coordinate rides so vehicles don't remain idle during working hours.
Tesla Chief Executive Elon Musk unveiled a plan to start using car-sharing services in his "Master Plan, Part Deux," released last month. In a blog post, Musk wrote that he hopes Tesla owners will offer their cars for car-sharing services in the future.
Graham said Tesla has been supportive of the program but has not provided any discount for its $74,000 SUVs.
Overturn Appeal
Burlington Northern Santa Fe Railway is appealing a judge's decision against the company's $500 million plan to expand a rail yard near the ports of Los Angeles and Long Beach.
The decision cites BNSF's plan to build a 153-acre rail yard, called Southern California International Gateway, in west Wilmington.
The Fort Worth, Texas-based company argues the ruling by Contra Costa County Superior Court Judge Barry P. Goode is "incorrect."
In his 200-page ruling, which came down in March, Goode wrote that the city of Los Angeles and the port failed to conduct a proper environmental review before approving the rail yard expansion.
The Port of Los Angeles said it will join the railroad company in appealing the decision.
"The SCIG project is vitally important to improve the efficiency of the entire San Pedro Bay Ports complex, the Alameda Corridor, and the region," Gene Seroka, director of the port, said in a statement. "The Port of Los Angeles prepared an environmental impact report that we strongly believe fully met all requirements of CEQA to inform (the) public and decision-makers of the project's effects."
BNSF proposed the 153-acre intermodal rail yard facility in Wilmington to load cargo on trains from both ports. The project is expected to move up to 8,200 trucks a day and 2.8 million 20-foot containers by 2035.
Railroad officials say that the rail yard would cut traffic and mitigate pollution. Opponents of the project, including local businesses and community members, argue it would allow trucks to run near densely populated low-income communities in west Long Beach, a neighborhood already struggling with port-related air pollution.
Wireless Underground
The Los Angeles County Metropolitan Transportation Authority will partner with Sprint Corp. to provide underground wireless service for Sprint customers on the Red and Purple commuter rail lines.
Starting this fall, Sprint customers will be able to make phone calls from Union Station and Seventh Street stations downtown. Riders will also be able to access the wireless service from platforms for Blue and Expo line trains.
During the next phase, Metro plans to expand the service to the North Hollywood Red Line station in the San Fernando Valley and the Gold Line's underground stations in Pasadena. That work is expected to be completed next year.
Sprint is following another wireless network operator, Verizon Communications Inc., which started providing underground wireless services for subway travelers in April. Meanwhile AT&T Inc. is continuing negotiations with Metro officials about a similar service for its customers.
Staff reporter Olga Grigoryants can be reached at ogrigoryants@labusinessjournal.com or (323) 556-8326.
For reprint and licensing requests for this article, CLICK HERE.