Not on Easy Street
Rising rents on Abbot Kinney Boulevard make it tough go for smaller businesses.
Monday, April 11, 2016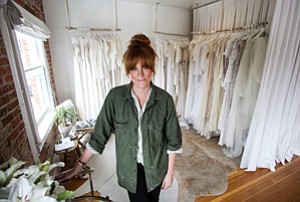 It's no secret that the tech industry has transformed Venice, and now the resulting surge in real estate prices is affecting the area's most iconic shop-lined thoroughfare: Abbot Kinney Boulevard.
While the roughly eight-block stretch of restaurants and retail is still drawing in new tenants despite sky-high rents, some are wondering if the crop of boutiques and eateries can also pull in enough sales to cover the cost.
After all, longtime fixtures such as Hal's Bar & Grill and Roosterfish are already gone, having been priced out of the rental market.
"The rents are ridiculous," said Jerry Prendergast, founder of Culver City restaurant consultancy Prendergast & Associates, who added that many retailers move in as part of a marketing strategy. "I'm seeing up to $12 a square foot. I can't pencil anything out that works there in terms of the volume I would have to do to pay the rent. A lot of them are just doing it as vanity locations."
Prendergast said businesses on Abbot Kinney should expect to pay rent of between 8 percent to 10 percent of gross revenue. So if a restaurant wanted to lease a 2,000-square-foot space at $8 a foot it would need to do about $200,000 in sales a month.
"A 2,000-square-foot space? I've only got 75 seats," he said.
Some, such as Orla Stiles, have looked for workarounds to the problem. Stiles is the 30-year-old founder of bridal shop Solstice Bride on California Avenue, mere steps away from Abbot Kinney. Her shop sits on the second floor above Abbot's Habit café, but because the entrance is on California, the rent is substantially cheaper. Her signage, however, is on Abbot Kinney. She pays $3,600 a month in rent for her roughly 600-square-foot space, but all she found on Abbot Kinney were larger spaces starting at $10,000 a month.
"I got lucky," she said. "I found a space a little less than what my peers are spending."
But she did have to compromise: "I'm on a second level with a private entrance so I had to edit my business model to be appointment only."
California wasn't as kind to Nicole Papadopoulos, co-owner of clothing boutique LulaMae, who said it was tough operating a shop there. Her store opened in late summer 2014 but moved to Culver City a year later. Sales were great the first few months, according to Papadopoulos, but nosedived last summer.
For reprint and licensing requests for this article, CLICK HERE.
Prev Next