Pivot to Profit
FINANCE: Green Dot puts money on new debit cards to offset loss of scrapped line.
Friday, April 8, 2016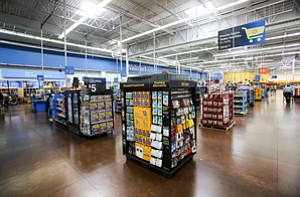 Seeking to rebound from a hit it took last year after a popular product was tied to money-laundering scams, Green Dot Corp. has launched a series of products and refreshed versions of old ones, striking deals with market leaders to bolster its bottom line.
The Pasadena financial technology firm debuted a checking account and debit card last month that allows drivers for San Francisco's Uber Technologies Inc. to collect instant payments for their fares. The prepaid-card pioneer also unveiled an updated version of its successful Walmart MoneyCard, which features a new rewards program, as well as a new cash-back Visa debit card and an everyday prepaid card.
They're the latest in a string of efforts to refresh Green Dot's offerings and diversify its sources of revenue in the wake of losing $67 million in revenue after being forced to discontinue its popular MoneyPak system. The product, used to reload prepaid cards, was dumped after reports it was being used in money-laundering schemes and other scams.
Shareholders will likely be wondering whether the parade of new products will soften the blow of losing MoneyPak.
"We hope so," said Chief Executive Steven Streit, 54, adding that the company will reveal more about specific progress in its first-quarter earnings report.
"The goal … is to have new, exciting, more modern products that delight and attract more customers … and overgrow, if you will, the loss we had from losing MoneyPak a year and a half ago," he said.
His job might be riding on the new products' success.
Large Green Dot shareholder Harvest Capital Strategies, a San Francisco investment firm with $2.3 billion in assets and a more than 9 percent stake in the firm, sent a letter to the board in January criticizing its stewardship and Streit's management. Among other things, Harvest complained Green Dot fell short of financial forecasts in three of the last four years and mishandled the MoneyPak discontinuation.
"In just six months, Mr. Streit's guidance on MoneyPak's impact went from 'not material' to nearly a 10 percent revenue headwind," Jeffrey Osher and Craig Baum, Harvest managing directors, wrote in their letter.
They demanded Streit's ouster and have since launched a proxy fight to replace several directors at Green Dot's annual shareholder meeting, which has yet to be announced.
The debit card firm has said in statements that it has engaged extensively with Harvest, offered compromises, and attempted to allay the investor's concerns, noting that Green Dot's performance will ultimately be its most powerful and effective response to Harvest's campaign.
"We hope that if (the new products) perform well and do as they're intended to do, that all our investors, including Harvest, will feel better about the company's performance," Streit said.
Streit founded Green Dot in 1999 and helped forge the prepaid debit card industry, which has grown more than 25 percent annually since 2010, hitting $5.6 billion last year, according to a report last year from Brentwood-based research firm IBISWorld.
While Green Dot has recently faced competition from big financial institutions such as New York's JPMorgan Chase & Co., American Express Co., and Capital One Financial Corp., it remains the dominant player, commanding more than 15 percent of market share, according to IBISWorld.
Green Dot reported a fourth-quarter loss of $6.1 million (12 cents a share), compared with a net loss of $800,000 (2 cents) a year earlier. Revenue rose 2 percent to $151 million.
MoneyPak problems
The firm's previous MoneyPak product consisted of a voucher with a bar code that could be purchased from retailers in order to load funds on a prepaid card. For example, customers could pay a store cashier $50 (plus a $4.95 fee) to load on the voucher, scratch off the security code, and transfer the funds online to a prepaid card of their choice. It provided an alternative to carrying around cash and a way to pay for online purchases in lieu of owning a credit card.
But reports surfaced of thieves using the vouchers to launder money from stolen credit cards, said Chicago-based First Analysis Corp. analyst Lawrence Berlin. Fraudsters were also stealing customers' money by tricking them into handing over their MoneyPak bar codes and personal security numbers.
"The total number of fraudulent transactions was tiny compared to the legitimate ones," Streit said. "But that kind of reputational damage is not helpful."
Green Dot announced in late 2014 that the product would be pulled until the firm could find a fix.
"The discontinuation was handled as well as they could, but it was still very difficult," Berlin said.
When the new version launches this month, customers will need to fill out personal information to verify their identity when transferring funds online to make sure Green Dot knows who those users are, where they're located, and how they're using the product, Streit said.
Mixing it up
Some of the new products have higher monthly fees than their predecessors or offer "stickier" rewards programs to retain customers and appeal to a broader range of consumers. For example, the revamped MoneyPak will include a fee increase of $1, and the monthly fee for the new Walmart MoneyCard has been bumped to $5 from $3, though it now comes with extra features such as check writing and deposit, and the fee can be waived if the user deposits $1,000 or more on the card each month. MoneyCard customers can also earn up to $75 each year by shopping at Walmart.
The Uber deal stands out, said Berlin, because it provides a high-profile partner for Green Dot's GoBank product, a mobile checking account that the firm opened three years ago.
"It showed there might be a revenue model behind GoBank," Berlin said, explaining that Uber drivers might open GoBank accounts and then be attracted to other services.
While the Uber checking account carries an $8.95 monthly fee, Green Dot will likely make the majority of its revenue from merchant swipe fees on the debit card that comes with it. That's because the account fee is waived for six months when a direct deposit is received from Uber, and waived in months when direct deposits total at least $500. Green Dot and Uber haven't disclosed how they'll divvy up any account fees received.
Though how many Uber drivers will opt for it versus waiting out a weeklong pay period is unclear, said Berlin, and he can't yet forecast whether all the new products will find traction.
"It's too early to tell," he said.
For reprint and licensing requests for this article, CLICK HERE.