Leak Fear Rises
ENERGY: Playa del Rey gas wells under regulator review.
Tuesday, April 5, 2016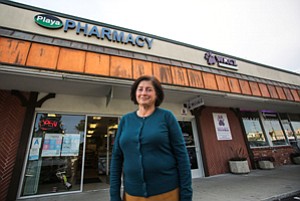 Southern California Gas Co.'s aging Playa del Rey natural gas storage facility has been beset by leaks and mechanical failures, forcing state regulators to conduct more than three dozen inspections since the start of the year.
Some of the wells at the facility, located within two miles of Los Angeles International Airport, Loyola Marymount University, and booming tech and residential campuses at Playa Vista, failed to demonstrate "mechanical integrity" during a recent examination, according to a state report.
Of those, some were found to be leaking. SoCal Gas repaired two of the leaks quickly and returned the wells to service. But a leak in a third well was apparently more serious and inspectors ordered that well shut down pending further evaluation, according to Don Drysdale, a spokesman for the California Department of Conservation, which oversees the Division of Oil, Gas and Geothermic Resources.
"The Division's work at the site is ongoing, with the well and project evaluations to ensure public and environmental safety," he said in an email.
Tests for mechanical integrity were to have been completed in August. That deadline was extended to the end of the year, and again to March 30. While SoCal Gas received an extension to complete the tests, one well's mechanical integrity could not be assured by the deadline and was plugged and taken out of service.
State inspectors have inspected the site since the beginning of the year, Drysdale said.
Tammy Taylor, a spokeswoman for Sempra Energy, the San Diego parent of SoCal Gas, said the Playa del Rey facility is now in compliance with state regulations.
"There are no present compliant issues at this time," she wrote in an email. "Although there has been no written extension, DOGGR gave our Storage Field Engineer a verbal confirmation that as long as we have a rig on the (plugged) well we will not be in violation."
Volatile situation
Should one or more of the wells have a failure – some were built 80 years ago – and a serious leak occur, the economic impact could be far greater than the recent leak at the gas company's Aliso Canyon storage facility that forced hundreds of Porter Ranch residents from their homes.
"It's really dangerous," said May Chehade, who said she can smell gas every time she steps outside her Playa Pharmacy at 8131 W. Manchester Ave., less than 500 feet from the SoCal Gas storage facility. "If something happens, we're going to lose our business."
Prev Next
For reprint and licensing requests for this article, CLICK HERE.