Media Giants Like Look of Virtual Reality's Future
ENTERTAINMENT: Jaunt's production services draw $65 million investment.
Monday, September 28, 2015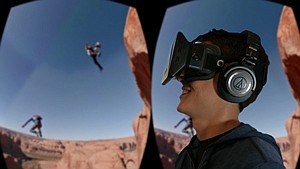 Fictional lives have always been Hollywood's stock in trade. Now the industry is investing in another form of virtual reality.
Last week, Walt Disney Co. and other entertainment giants joined in investing $65 million in virtual reality production company Jaunt.
Palo Alto-based Jaunt manufactures a virtual reality camera, called the Jaunt ONE, as well as virtual reality footage-editing software. It also produces virtual reality videos of its own, and that was part of the appeal to both sides of the deal.
In addition to using the proceeds to enhance its camera hardware and software, Jaunt will be opening a virtual reality production studio in Santa Monica. At the facility, the company's production partners will be able to use Jaunt's virtual reality cameras and production tools.
Moreover, with a new presence in the L.A. area, Jaunt will be leveraging its investors' relationships to boost content production.
Along with Disney and Evolution Media Partners, which is backed by Creative Artists Agency among others, additional investors include Madison Square Garden Co., Google Ventures and China Media Capital.
This Series C round pushes Jaunt's funding to more than $100 million.
"In the case of Disney, for example, they have interests across wide areas of entertainment, news, sports, theme parks. For us, it's a really terrific partner going forward," said Jaunt Chief Executive Jens Christensen. "CAA has this tremendous reach in terms of talent actors, directors, people in the sports world."
Jaunt is further connected to Hollywood by Lucasfilm Ltd. alumni, who fill out its executive ranks. The company's Santa Monica studio is led by President Cliff Plumer, a former chief technology officer at San Francisco's Lucasfilm. Its deal-making efforts are led by Chief Business Officer David Anderman, who had served as general counsel at Lucasfilm for 16 years and was instrumental in negotiating Disney's acquisition of the studio.
Well-worn road
Jaunt's walk to Hollywood is a familiar path for Silicon Valley technology companies. In search of better content, a number of online platforms have bulked up their L.A. presence in the last five years, including Amazon.com Inc., which has an office in Santa Monica; Netflix, which in August signed a 200,000-square-foot lease for office space in Hollywood; and Apple Inc., which is reportedly in talks with studios to make original content for Apple TV.
Eventually, Jaunt envisions building itself into a sort of HBO Go for virtual reality entertainment. The startup has produced a number of VR films, including a concert with Paul McCartney, a fictional war drama and a documentary about extreme rock climbing. However, it feels the need to ramp up content production in Los Angeles as the Samsung Gear VR headset and the Oculus Rift headset hit the market in the next few months.
"People, as they get the headsets, they are going to need the content," said Christensen. "We are very much focused on building up a library of high-quality VR experiences for consumers."
Virtual reality monetization will likely happen in stages, with ad-supported, experimental content coming out first and paid-subscription models likely developing by 2017 or 2018, he said. Product placement in a virtual world could be particularly opportune.
Business opportunities aside, many aspects of virtual reality video production still need to be worked out.
"It's completely the Wild Wild West," said Morris May, chief executive and co-founder of Specular Theory, a Venice virtual reality studio. "It's really a new medium. The things that worked in the past don't work anymore."
Close-ups, long shots or other framing techniques commonly used in shooting traditional 2-D or 3-D film no longer make sense, for example. Now audience members have the power to look around during a video, and that means virtual reality filmmakers have to use movement, light or noise to focus attention on a storyline. As such, traditional media companies are a bit out of their element and are anxiously looking toward early movers like Jaunt to lead the way.
"Ten years from now you might not even have TV screens," said May. "You miss this opportunity as a studio head, you're going to be fired."
For reprint and licensing requests for this article, CLICK HERE.