Wait for Psychiatrists Can Test Patients
HEALTH CARE: Some doctors won't accept Obamacare fees.
Monday, September 21, 2015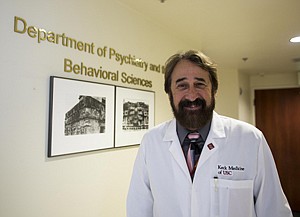 Some L.A. psychiatrists are crazy busy these days.
Demand for their services has surged since the Affordable Care Act minted millions of newly insured patients. But the increase in demand has not been met with a commensurate increase in supply.
That means longer days for some practitioners and longer waits for patients, an uncomfortable proposition for somebody suffering from depression, anxiety or any other mental health issue.

"New patients who come are all telling me, 'I had to wait two to three weeks; I'm glad I'm here but I had to wait that long,'" said Dr. Adib Bitar, medical director at Covina private psychiatric facility Aurora Charter Oak Hospital, who also sees patients privately in Burbank. "That's a common story I hear recently, especially since the Affordable Care Act."
At the heart of the shortage is that while more people are covered for psychiatric care, the number of psychiatrists who accept insurance hasn't increased – and there weren't a lot to begin with. For many, it's a simple issue of money.
"Private insurance pays them less to see a patient with depression than it pays a primary care doctor to see and treat the same patient with depression," said Dr. Renee Binder, president of the Washington, D.C.-based American Psychiatric Association. "It can even be up to 50 percent less."
Psychiatrists also tend to be solo practitioners with minimal if any office staff, which makes handling all that paperwork particularly onerous.
"If some (patient) wants to pay the going rate and has the ability to do so, they won't experience a shortage," said Torrance psychologist Moe Gelbart, whose practice has about 35 mental health providers, including five psychiatrists, who do contract with insurers. "The difference is a $10 to $25 co-pay versus a $400 to $600 bill. Obviously for people of means, they may or may not be willing to pay that, but the average person can't afford that on a regular basis."
Increased demand
Obamacare mandates that medical plans include mental health benefits, building on 2008 legislation aimed at ensuring mental health coverage be generally comparable to medical and surgical coverage in terms of financial requirements and treatment limitations.
As medical doctors, psychiatrists are the only mental health workers who are able to both provide therapy to patients suffering from depression, schizophrenia and a range of other disorders as well as prescribe medication.
And while health insurers must show state regulators they have an adequate number of psychiatrists contracting with their plans, it doesn't always work that way in reality.
"Insurance companies publish misleading directories," Binder said. "They include names of psychiatrists who they say are in their network when the person doesn't participate and sometimes isn't even a psychiatrist."
So patients might have to make many calls before even finding a doctor and then find out they have to wait several weeks for an appointment.
"Patients reach us and say, 'You're the first group with someone answering the phone and appointments available,'" said West Hollywood psychiatrist Lawrence Genen, whose practice has more than 20 mental health providers, including five psychiatrists, all of whom take insurance. "I hear a lot of stories of patients in insurance networks and either the doctors are not accepting new patients or are not (in network) anymore."
Few of them accept insurance partly because of the administrative hassle, which can be particularly challenging for those doctors who often operate on an outpatient basis.
"It's cumbersome to have to do your own billing," Bitar said. "You need your own collection staff."
Then there's the fees they actually collect.
"Some of the insurance payments honestly are quite less than a good plumber or mechanic would make," said Dr. David Baron, interim chair of USC's Department of Psychiatry. "The hourly rate is quite low … even though parity might be the law of the land, it's not a reality."
While Genen said his cash-only colleagues on the Westside typically charge about $500 an hour, he normally gets $100 to $150 an hour from insurance.
"You can provide meaningful care in an economically viable model," Genen said. "The people in our group, everyone is well compensated. But when you look at what psychiatrists get reimbursed compared to other specialists, it's still at the lower end of the spectrum."
Coping mechanisms
Given all those economic factors, some psychiatrists relying on insurance reimbursements must see more patients to support their practice.
"They all are working 10 to 12 hours a day, five to six days a week, the ones I know," Bitar said.
In addition, they might join a larger group practice with a mix of psychotherapists, leveraging an economy of scale to pay for a back-office staff that handles collections and all the paperwork.
Another trend to fill in the gaps has been employing psychiatric mental health nurse practitioners and psychiatric physician assistants to prescribe medications.
"Physician assistants and nurse practitioners have been around for a while, but the mental health specialization is relatively new," said Dr. Jeremy Martinez, chief executive of the Matrix Institute on Addictions in West Los Angeles.
Or psychiatrists might see a large volume of shorter visits for medication management.
"For that, insurance pays reasonably well," Baron said. "But that's not why they went into the field. People went into psychiatry usually because they enjoy spending more time with patients."
For reprint and licensing requests for this article, CLICK HERE.