Institute to Add Cultural Center, $1 Million Prize
NONPROFIT: New projects follow Nicolas Berggruen's focus on governance.
Monday, September 21, 2015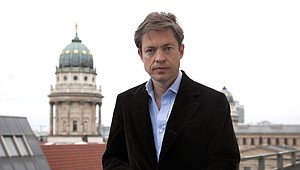 Ever since Nicolas Berggruen launched Santa Monica's Berggruen Institute in 2010, the billionaire philanthropist has poured many resources into studying governance issues that impact nations across the world. Last week, Berggruen, sometimes known as the "homeless billionaire" because of his past reputation for living in one hotel after another instead of a permanent home, announced a new initiative – the Berggruen Philosophy and Culture Center – that seeks to bridge the gap between the East and West, increase understanding of different cultures and find new ways to allow nations to work together. The initiative will include a fellowship program among universities in the United States – including UCLA and USC – China and the United Kingdom. Berggruen also announced a $1 million prize to "a living thinker whose ideas have deeply influenced our world" that will be awarded by an independent jury each year, beginning fall of next year. The Business Journal caught up with Berggruen, who ranked 38th on May's list of Wealthiest Angelenos, with an estimated net worth of $1.57 billion, to discuss why he added the philosophy center to his institute, his current investments and overall take on the L.A. business community.
Question: What made you decide to add the philosophy and culture center?
Answer: The kind of governance work we've done from the very beginning is both intellectual and on the structural side. We've looked at other systems on other sides of the world to see if we could learn from them. At the end of the day, it really comes down to culture – and culture is really philosophy and religion – so it was very natural for us to go from the political side to see what is behind governance. And I grew up in Paris, and as a teenager I was really interested in both politics and philosophy.
How much of the new center's work will take place here in Los Angeles?
We started the institute in Santa Monica, so that's where the headquarters will remain. But as we did with the political side, we will have lots of activities across the world. On the philosophy side, we started a fellowship program with participants who will spend time in the West and East. Some of our work will be on the ground at UCLA and USC. Ultimately, we're going to build our own permanent facility so we can have scholars live and work nearby.
Where will the new building be?
It's our plan for it to be in Los Angeles but we're still in the early days of planning. We're working on the details but they're not yet ready for public consumption. Hopefully, we can share some news early next year.
Do you spend most of your time in Los Angeles?
I spend a fair amount of time in L.A. Frankly, I wish I would spend more time there, but there's plenty of competition.
What parts of Los Angeles are most attractive to you?
It's still a city in the making. It's a very unusual and very exciting place. It has physical and mental space that's really unique. I attribute a lot of the energy and the fact that I spent time in L.A. to my institute's success. It gives me inspiration to go deeper into these (political, philosophical and cultural) subjects.
What's your take on the L.A. business climate?
I'm not deeply involved in the business community in L.A., but what's interesting about L.A. is that it's so diverse in every way possible – diverse in the kinds of industries with small businesses, big businesses and medium-sized businesses. The different origins and the kind of people who start these businesses, including their nationality, it's the most incredibly diverse space, and therefore an incredibly dynamic and vibrant space. I find it fascinating.
Do you invest in many startups or projects here?
My institute is an investment and, in my mind, the most valuable thing or commodity over time is investing in ideas. We're investing in ideas through the institute that was first created in L.A. and we invest in this capacity to develop scholarship in Los Angeles.
How is the Berggruen Institute – including the new $1 million Berggruen Philosophy Prize – funded?
It has all been funded internally by my charitable efforts. We have had no outside funding and we haven't sought any. There's a charitable trust, which is not in the U.S. It funds the institute.
What impact do you think your new philosophy and culture center will have on Los Angeles?
L.A. has plenty – from UCLA, USC, Caltech and a number of institutes like Rand and the Milken Institute – and cultural institutes like the Getty Center and (Los Angeles County Museum of Art). But this will just add to what's happening in L.A. I think it will be good.
For reprint and licensing requests for this article, CLICK HERE.