Door Still Open?
REAL ESTATE: Apartment owner Admire Hill steps back from condo conversion project despite downtown L.A.'s demand.
Monday, September 21, 2015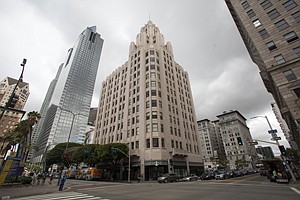 After news broke in midsummer that the owners of the Title Guarantee Building at 411 W. Fifth St. planned to embark on the first apartment-to-condominium conversion in downtown Los Angeles since 2006, things moved quickly.
Marketing materials were circulated in July, advertising the conversion of the 74 units, and by late last month, the project had attracted a sign-up list with roughly 550 names on it. The apartments were set to hit the market Sept 10.
But on Aug. 26, the art deco building's owner, family-run Admire Hill, had a change of heart, pulling the offering. Polaris Pacific, a San Francisco firm hired to market the condos, canceled a broker preview event scheduled for the next day, and reluctantly removed the sign-up list from the building's website.
"We had it ready to go, and we got a call one day that they decided they were pulling out," said attorney Robert Smylie of Century City's Robert Smylie & Associates, who worked with the owner and Polaris Pacific to shepherd the project through the approvals process with the California Bureau of Real Estate. "I haven't got a clue (why that decision was made). There were no legal issues we found that would stall it. It hasn't been explained."
Admire Hill is owned by Dr. Il Young Kim, who runs the Koreatown medical practice Beverly Cardiology; his daughter, Dr. Diana Kim, who practices with her father; and his son Richard Kim, who is managing partner of Admire Hill.
The Kims did not return requests for comment.
Timothy Chi, the building's manager, declined to comment.
"We were surprised," said Rhonda Slavik, director of business development at the downtown L.A. office of Polaris Pacific. "It's a very unusual decision in a market this strong, where there is such a lack of (condo) inventory. The buyer community had responded in excess of our expectations. Everyone has been disappointed."
Demand high
One thing seems sure: lack of demand for condos downtown was not the reason Admire Hill pulled its conversion plan.
Alan Mark, president and founding partner of San Francisco urban residential marketing and sales firm Mark Co., said there were 103 active resale listings for the downtown market in August, an inventory that will run out in three months. A balanced market, he explained, would have six months' worth of inventory.
Many planned rental-to-condo conversions, including the Apex apartments at 900 S. Figueroa St. and the WaterMarke Tower apartments at 705 W. Ninth St., were kept as rentals because of the downturn, adding to the shortage, he said. Were Admire Hill to have stayed the course, Title Guarantee would have been the first downtown conversion since the Textile Building Lofts at 315 E. Eighth St. in 2006.
The lack of supply has increased prices. The average resale price of a condo in August was $627 a square foot, a 15 percent increase from the previous month and 18 percent higher than a year ago, according to Mark Co.'s latest Condominium Pricing Index.
"It's a seller's market," Mark said, noting that Greenland USA's Metropolis project remains the only new construction development offering units for sale downtown.
Speculation abounds
Adam Tischer of Colliers International represented Bank of America when it sold the building to Admire Hill for $29 million in 2012. The bank took the property after the previous owner, which spent $38 million to convert the 1930s office tower to a residential building, defaulted on its loan.
He speculated that Admire Hill might have decided that with the market on the rise, waiting a little longer before selling could bring greater appreciation.
Given the volume of interest – 550 people asking for information on just 74 units – he said the owner felt it might have priced the project prematurely.
"The logic (could be), we sold this building six times over, so we're selling too soon," Tischer said.
When the conversion was announced, it was reported that a 750-square-foot unit would sell for $500,000. At $667 a foot, the asking price for the smaller unit was higher than the market average last month.
But Steve Bram, principal at Century City real estate investment banking firm George Smith Partners, said strong
appreciation is hardly a given. Considering the 310-unit Metropolis project and other condo projects are on the way downtown, it wouldn't make sense to wait for higher prices when supply might decrease demand.
Conversions are often canceled due to problems kicking the rental tenants out, Bram said. But at Title Guarantee, which is 80 percent leased, all leases will be up by the end of the year, and all renters have been given the option to buy.
A more likely scenario is that renters with the option to buy decided to use it, but ran into trouble with financing.
"In the old days, a renter with no down payment could get an 80 percent loan from the bank and then the owner of the building would take back a second loan for 10 percent, so they buyer wouldn't have to put much down," he said. "Now, condo financing isn't nearly as aggressive as it was."
Another possibility: The family-owned business decided the conversions were too complicated and is looking to sell to a larger company who can handle it, Bram speculated.
Polaris Pacific's Slavik said the owner's reason could be simpler: not wanting to give up a good thing. Apartments at the building rent for as much as $6,100 a month for a penthouse.
"It's a beautiful building and they are getting great rent, so I understand it being hard to let go of," she said.
For reprint and licensing requests for this article, CLICK HERE.