Pushing Buttons
Super League Gaming scores partnerships with theaters to host video-game matches.
Sunday, September 20, 2015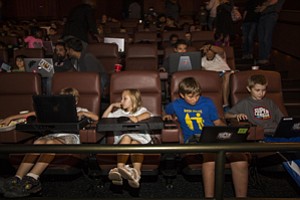 It is not that movie theaters want to use video games to undermine American after-school pastimes like Little League Baseball and peewee football – it's just that they have seats to fill.
Despite years of impressive box-office figures boosted by pricier tickets and extra fees for 3-D screenings, theater attendance has been falling. Last year, theaters counted the fewest butts in seats since 1995.
That's left theaters with lots of extra auditorium space – and it's convinced about 80 multiplexes around the country to sign up with Santa Monica startup Super League Gaming, which will use otherwise empty theaters as venues for kids' recreational video-game leagues starting next month.
More than 134 million people will watch professional video-game tournaments, or so-called e-sports, this year, generating an estimated $612 million in advertising and ticketing revenue, according to New York video-game research firm Super Data Research.
Super League and its theater partners – including Cinemark, which is also an investor in Super League – figure that enthusiasm for gaming isn't going to stay bottled up at home or online and that kids and parents will be interested in organized e-sports.
"For a gaming generation, there's never been that option that says, I'm a gamer and this is how I compete after school," said Super League co-founder and President Brett Morris. "Competitiveness, the socialness and everything that goes along with after-school activities are tied up in these events."
Laptops, jerseys
Starting next month Cinemark, AMC, Regal and iPic theaters will be hosting Super League Gaming leagues in 34 cities nationwide. The leagues will hold matches every Tuesday or Wednesday afternoon – the slowest of slow times for theaters – for six weeks.
Players pay an $80 entry fee. For that, they get a jersey and the chance to win a piece of $15,000 in cash prizes. Super League splits revenue with theaters, but Morris would not say how much each gets.
Each week, gamers on teams of four to six play a version of Microsoft's Minecraft. Gamers have to own the game already – so Super League doesn't pay for licensing – and play on their own laptops.
Holding Minecraft tournaments requires some technological wizardry. To facilitate its matches, Super League wires up theater auditoriums with Wi-Fi hot spots, uses custom Minecraft software and a specially designed server that plugs into a theater's digital projector.
That allows the company to project a bird's-eye view of the Minecraft playing field on the big screen, an added dimension Super League organizers use to throw out prizes on the digital map that gamers rush to pick up. With each league hosting as many as 100 kids, ages 7 to 14, league matches can be a loud, chaotic scene.
For reprint and licensing requests for this article, CLICK HERE.
Prev Next