Salon Offers Twist For Curly-Haired
I Love Lulu founder draws line against straightening locks.
Monday, September 14, 2015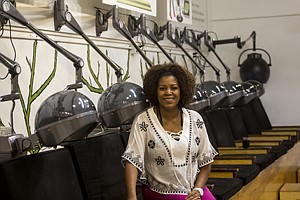 Hair stylist Tallulah "Lulu" Marcelin decided to stop chemically straightening her hair and embrace her natural curls.
When she couldn't find a salon that catered to her hair needs, she opened her own, I Love Lulu, near L.A.'s Miracle Mile.
Now, the salon is about to become a chain, with plans to open a Long Beach outpost by the end of the year and at least three more next year.
Marcelin said that when she founded the salon five years ago she underestimated the number of women who wanted to keep their hair natural and needed help. In fact, she's opening her next location in Long Beach because she found so many clients were willing to make the 30-mile trek to the Miracle Mile for her services.
"In the natural hair-care world, we hardly have any experts," she said. "They don't teach you in school how to work with natural, unprocessed hair. I realized that I needed someone to help me with my hair, and I'm a hair stylist."
Marcelin opened her original salon with $60,000 in savings. Since then, the business has grown its revenue about 25 percent each year and now has 11 employees. Her clients are mostly African-Americans but include all women with naturally curly hair.
I Love Lulu's focus is on helping clients have healthy hair – the opposite of heat or chemical treatments typically used to straighten hair. The salon offers nine treatments that feature natural ingredients including oils, herbs, aloe and egg. Each treatment costs $35 and includes 30 minutes of steam therapy.
The salon also sells its own line of products, including moisturizers, shampoos and conditioners, and Marcelin is looking to partner with a manufacturer so she can ramp up production and expand the line as she grows the salon chain.
"We want you to understand your own hair, feel it and love it," Marcelin said. "The goal is to expand that so that we can help people because I know it is quite a chore."
– Subrina Hudson
For reprint and licensing requests for this article, CLICK HERE.