Raising Curtain
Monday, September 14, 2015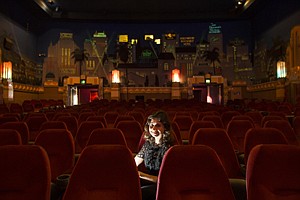 Louise "Weezie" Melancon sees a big future for small movie theaters like hers – just not as movie theaters. At least not primarily.
Independent cinemas have struggled for years, since the dawn of the multiplex, but they're in even more trouble now. Theater attendance hit a 20-year low in 2014 as people increasingly chose to watch films at home via video on demand or streaming services. Small theaters are the hardest hit.
But Melancon's single-screen movie palace in Westwood, which was shuttered for more than a year before she took it over in 2013, is surviving by programming much more than movies. Screenings of rock concerts, operas, ballets and boxing matches have boosted attendances at her Crest theater on Westwood Boulevard, as have live music and comedy events.
"Theaters like ours can't stay open with audiences of 10 people watching a film that's already been out for a few weeks," said Melancon, the theater's president. "A new business model is needed."
Among the Crest's recent successful draws was live-streaming 15 concerts this summer by rock band Phish, whose dedicated fans showed up each time and paid $10 a ticket to watch concerts that would have cost $120 to see in person.
"The same core group of fans kept coming back and brought more and more friends with them and that fits what we are creating at the Crest – a hub for like-minded fans to gather and enjoy whatever entertainment they are passionate about," Melancon said.
While ticket and concession sales for film screenings still generate the bulk of Crest's revenue, Melancon said, she believes revenue from concerts, live-streamed shows and other events will continue to grow and eventually overtake movies as the theater's primary source of income.
'Neck deep'
A former screenwriter who long dreamed of running her own cinema, Melancon seized the opportunity when, after being shuttered for 17 months, the Crest was made available for lease two years ago by owners Bigfoot Entertainment, a Miami company with various film and TV interests.
"I spent the money I'd made selling script options, went through my savings, maxed out my credit cards and gathered friends and family money to find the $100,000 I needed just to get the doors open," she said. "But there were all these other expenses, and like any entrepreneur you don't realize how bad it gets until you're neck deep."
Now, by finding myriad ways to brings in revenue, the 34-year-old said she's finally breaking even.
Prev Next
For reprint and licensing requests for this article, CLICK HERE.