Raising Curtain
Monday, September 14, 2015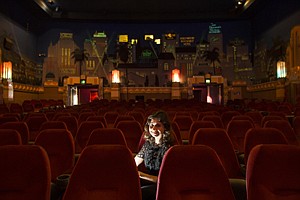 Louise "Weezie" Melancon sees a big future for small movie theaters like hers – just not as movie theaters. At least not primarily.
Independent cinemas have struggled for years, since the dawn of the multiplex, but they're in even more trouble now. Theater attendance hit a 20-year low in 2014 as people increasingly chose to watch films at home via video on demand or streaming services. Small theaters are the hardest hit.
But Melancon's single-screen movie palace in Westwood, which was shuttered for more than a year before she took it over in 2013, is surviving by programming much more than movies. Screenings of rock concerts, operas, ballets and boxing matches have boosted attendances at her Crest theater on Westwood Boulevard, as have live music and comedy events.
"Theaters like ours can't stay open with audiences of 10 people watching a film that's already been out for a few weeks," said Melancon, the theater's president. "A new business model is needed."
Among the Crest's recent successful draws was live-streaming 15 concerts this summer by rock band Phish, whose dedicated fans showed up each time and paid $10 a ticket to watch concerts that would have cost $120 to see in person.
"The same core group of fans kept coming back and brought more and more friends with them and that fits what we are creating at the Crest – a hub for like-minded fans to gather and enjoy whatever entertainment they are passionate about," Melancon said.
While ticket and concession sales for film screenings still generate the bulk of Crest's revenue, Melancon said, she believes revenue from concerts, live-streamed shows and other events will continue to grow and eventually overtake movies as the theater's primary source of income.
'Neck deep'
A former screenwriter who long dreamed of running her own cinema, Melancon seized the opportunity when, after being shuttered for 17 months, the Crest was made available for lease two years ago by owners Bigfoot Entertainment, a Miami company with various film and TV interests.
"I spent the money I'd made selling script options, went through my savings, maxed out my credit cards and gathered friends and family money to find the $100,000 I needed just to get the doors open," she said. "But there were all these other expenses, and like any entrepreneur you don't realize how bad it gets until you're neck deep."
Now, by finding myriad ways to brings in revenue, the 34-year-old said she's finally breaking even.
Those revenue streams include ticket sales and concessions for movies and other events, as well as rental income. Melancon said the 320-seat theater rents for about $500 an hour, although all rates are negotiable.
Crest clients include independent movie producers who want to screen their films there for previews or premieres, and musicians and comics looking to put on a show. Hip-hop artists, bluegrass bands and stand-ups have been among the 12 live acts seen there this year. Business networking groups METal International and Digital Family Inc. use it for meetings.
The art deco theater, built in 1940 and featuring eye-catching murals and an old-fashioned marquee, is also for hire as a filming location.
While the Crest still screens movies – this month, it's showing Al Pacino classics "Scarface" and "Carlito's Way" – it's increasingly adding events like this summer's Phish concerts. Filmed or live-streamed concerts, Shakespeare plays, operas, ballet and sporting events are all shown at the Crest, which is part of a network of 300 independent movie theaters across the country, all linked by satellites and servers so they can screen the same material at once.
Melancon sees opportunities for growth by using that linked network in a series of revenue-generating partnerships.
Hollywood is a hub for comedians, and she's working to bring big-name comics to the Crest, which would then film the shows and stream them to other theaters – ones in cities other then New York and Los Angeles, where comedians are less likely to go in person. And it's not just comedy shows she has in mind.
"The same can apply to livestreamed Q&A's with much of the movie talent in this city, which is an idea I was just discussing recently with Mel Brooks," Melancon said.
She isn't just name-dropping. She got Brooks to appear at the Crest for a screening of his comedy classic – and her favorite film – "Spaceballs" soon after she took over the theater.
By being a content creator, she would get money from the other theaters that screen her productions. On the other hand, it can be expensive to produce shows. Comedians demand an upfront fee, for example, and there are costs for cameras, camera operators and the like.

Word of mouth
There's another reason Melancon is keen to build up the Crest's lineup of alternative programming, especially the live music events: It generates higher revenue per ticket. She charges $12 for film screenings but can get $25 for concerts and other live events.
For now, movies still bring in larger crowds – "It's still easier to sell tickets for Al Pacino's 'Scarface' than Offenbach's 'Contest D'Hoffman' because more people know what it is," Melancon acknowledged – but she hopes that as the Crest offers more alternative programming, audiences who come for movies will see what else is offered, sample it and spread the word to their friends.
The Crest has no marketing budget, so Melancon and her team of one full-time employee and eight part-timers all pitch in spreading the word about events on social media, alerting online fan groups to Crest programs they might be interested in.
"It's niche marketing. It's working, but word of mouth is our greatest tool," she added.
She won't reveal how long is left on her lease to run the theater or how much she pays but does say she wants to buy the cinema and is looking for a partner with deep pockets to match her ambition.
"To buy the place and take it to the next level on the scale I'd like to do it at – which means buying the camera equipment and other things to be a content creator as well as a content deliverer – I'd need $10 million," she said. "I'm looking for a partner who loves this movie theater and wants to preserve it, rather than turning it into a clothing store, office or swap meet."
Designated as a historic landmark by the city in 2008, the murals inside and marquee out front are protected from the bulldozers and if Melancon has her wish, the Crest will continue for a long time as an entertainment venue.
"There are so few movie palaces any more, that's what we're trying to preserve – by using the right business plan," she said.
For reprint and licensing requests for this article, CLICK HERE.