Humanity on Line
TECHNOLOGY: Sensay links up its users with each other to answer questions as way to compete with AI-powered apps.
Monday, September 7, 2015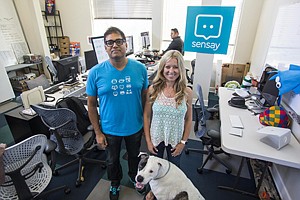 When President Barack Obama visited Santa Monica co-working space Cross Campus in October to discuss the startup economy, it gave Venice entrepreneur Ariel Jalali an idea for how to promote Sensay, his new on-demand help service.
Jalali offered Obama a job, generating press coverage and getting the word out about his anonymous text messaging company, which he said caused a surge of 10,000 signups.
"When you're a startup founder with a marketing budget of zero, you do everything you can to get your name out there," said Jalali, Sensay's chief executive.
Sensay's service, which is centered on conversations with other humans, albeit anonymous ones, is up against a growing number of similar tools that rely on artificial intelligence, or AI, to find answers to targeted questions. Think of Apple Inc.'s Siri, Google Inc.'s Now or Microsoft Corp.'s Cortana.
"People have always wanted this computer you talk to that gives you answers," said David Waxman, a co-founder and managing partner at Century City seed investment firm TenOneTenVentures, which focuses on data-driven startups. "AI is surging forward by leaps and bounds."
After a formal beta launch in January, Jalali declined to disclose how many people are using Sensay now, though he claimed a half-million messages have been sent in the form of questions and answers to topics such as where to buy Coachella tickets and last-minute suggestions for wedding photographers. Queries are sent to Sensay's platform, from which they are routed to users qualified to answer them based on information they've given to Sensay. Responses are texted back via Sensay, which anonymizes the source of the information.
Jalali essentially offered the president the opportunity to join the platform and answer questions, relying on his expertise, though Jalali phrased it as a "gig." Obama didn't take him up on the offer.
Sensay's team has been working out of Amplify.LA's Venice headquarters since February after moving out of Cross Campus. The six-person company raised more than $1 million in a January preseed round from several firms including Amplify and Greycroft Partners in downtown Los Angeles. Jalali said he and co-founder Crystal Rose hope to close a larger seed round before Thanksgiving.
Hybrid model
Sensay is by no means alone as an entrant to the on-demand help sector that combines artificial intelligence and human interaction to deliver results.
Facebook Inc.'s M, announced in late August, is a virtual assistant within its Messenger app that allows users to message Facebook for help completing a task, including financial transactions and finding information. What differentiates M is that it combines machine learning by culling data from its billion-user platform with human curation.
"It's powered by artificial intelligence that's trained and supervised by people," said David Marcus, Facebook's vice president of messaging products, in an Aug. 26 status update announcing that the company had begun testing the feature.
But Jalali and Rose, who met while working at L.A. marketing firm Phenomenon, are betting that people would rather have a more intimate chat experience than what they might get with M, which in turn could generate more personalized recommendations.
"When you want a conversation with a robot you can use those platforms," Jalali said, noting that Sensay will soon be available within third-party chat apps such as WhatsApp and Line.
"Sensay facilitates human conversations," added Rose, the company's chief marketing officer. "We love conversation because the best answer to a question is usually another question."
Jalali and Rose also see the potential in facilitating consumer purchases. Though it's free to use now, Sensay plans to monetize in several ways, among them linking to products mentioned in conversations within the chat window so users can make purchases. Sensay would take a cut of each transaction. Jalali said about 20 percent of conversations involve some sort of asset, such as an item or website, which could potentially be commoditized.
It also wants to offer merchants the ability to pay for business leads. For example, the company recently discovered that many users were looking for a place to keep their dogs overnight, explained Jalali. Eventually, a company such as Santa Monica's DogVacay might pay to have those queries directed to its platform. The company is also particularly excited about the ability to create revenue from the job-search sector.
"We can connect you anonymously with a hiring manager," said Jalali. "There's quite a lot of money we could extract from that transaction."
Sensay has also instituted virtual coins that people can use to tip each other based on the quality of advice they receive. Down the line, those coins will carry a monetary value as people will be required to either buy coins to ask questions or agree to answer questions in exchange for coins. So far, about 60 percent of Sensay's users have gone on to answer questions from others, said Jalali.
Another possible outcome is that Sensay could be acquired by a tech giant looking to improve its own service. That's exactly what Facebook did in January when it bought Palo Alto speech-interface developer Wit.ai for an undisclosed sum to help build M.
Another example occurred in 2010 when Google bought San Francisco's Aardvark, a company that allowed people to find the right person to ask for help from their online contacts, for $50 million. Google quickly shuttered the service and Aardvark's team went to work on Google Plus.
"Aardvark proved that social search is a viable play," Joe Devon, co-founder and chief operating officer at Venice's Diamond, an agency that specializes in the development of Web, mobile and connected devices, said in an email. "Sensay has the ingredients to make it. I could see one of the majors, perhaps Microsoft, wanting them."
Jalali said he and Rose's primary concern is growing Sensay's user base, and he declined to disclose if the company has been approached regarding a possible sale.
"However, we have heard from former early employees at some large tech companies that they are looking to buy companies in the general space," said Jalali.
For reprint and licensing requests for this article, CLICK HERE.