Humanity on Line
TECHNOLOGY: Sensay links up its users with each other to answer questions as way to compete with AI-powered apps.
Monday, September 7, 2015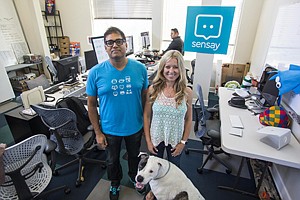 When President Barack Obama visited Santa Monica co-working space Cross Campus in October to discuss the startup economy, it gave Venice entrepreneur Ariel Jalali an idea for how to promote Sensay, his new on-demand help service.
Jalali offered Obama a job, generating press coverage and getting the word out about his anonymous text messaging company, which he said caused a surge of 10,000 signups.
"When you're a startup founder with a marketing budget of zero, you do everything you can to get your name out there," said Jalali, Sensay's chief executive.
Sensay's service, which is centered on conversations with other humans, albeit anonymous ones, is up against a growing number of similar tools that rely on artificial intelligence, or AI, to find answers to targeted questions. Think of Apple Inc.'s Siri, Google Inc.'s Now or Microsoft Corp.'s Cortana.
"People have always wanted this computer you talk to that gives you answers," said David Waxman, a co-founder and managing partner at Century City seed investment firm TenOneTenVentures, which focuses on data-driven startups. "AI is surging forward by leaps and bounds."
After a formal beta launch in January, Jalali declined to disclose how many people are using Sensay now, though he claimed a half-million messages have been sent in the form of questions and answers to topics such as where to buy Coachella tickets and last-minute suggestions for wedding photographers. Queries are sent to Sensay's platform, from which they are routed to users qualified to answer them based on information they've given to Sensay. Responses are texted back via Sensay, which anonymizes the source of the information.
Jalali essentially offered the president the opportunity to join the platform and answer questions, relying on his expertise, though Jalali phrased it as a "gig." Obama didn't take him up on the offer.
Sensay's team has been working out of Amplify.LA's Venice headquarters since February after moving out of Cross Campus. The six-person company raised more than $1 million in a January preseed round from several firms including Amplify and Greycroft Partners in downtown Los Angeles. Jalali said he and co-founder Crystal Rose hope to close a larger seed round before Thanksgiving.
Hybrid model
Sensay is by no means alone as an entrant to the on-demand help sector that combines artificial intelligence and human interaction to deliver results.
Facebook Inc.'s M, announced in late August, is a virtual assistant within its Messenger app that allows users to message Facebook for help completing a task, including financial transactions and finding information. What differentiates M is that it combines machine learning by culling data from its billion-user platform with human curation.
For reprint and licensing requests for this article, CLICK HERE.
Prev Next