Packed Flight
LAW: O'Melveny & Myers looks to get new aviation group off ground with lawyers drawn from range of practices.
Monday, October 26, 2015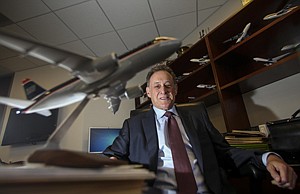 Any time Paul Jones, general counsel at American Airlines Group Inc., needs help with a legal issue he calls an attorney at O'Melveny & Myers.
He's apparently not alone.
Demand for aviation-related legal services has increased so much that O'Melveny this month launched a practice group dedicated specifically to the industry – and one that apparently is unique because of its breadth.
"They have developed an expertise in this industry that is unparalleled by any other firm," Jones said. "Having an industry group on whom we can rely that's going to facilitate things from my perspective makes my job easier."
O'Melveny's new practice is designed to help aviation clients navigate merger and acquisition opportunities as well as labor and antitrust disputes, among other issues.
Bob Siegel, a partner in O'Melveny's downtown L.A. office, heads the group, which he said includes about 50 attorneys from around the country.
Historically, most major law firms, including O'Melveny, have used practice groups to organize attorneys based on the area of law they specialize in. Siegel, for instance, is also a member of the firm's labor and employment practice group.
But that traditional structure has begun to change in recent years, said Sabina Lippman, co-founder of L.A. legal recruiting firm Lippman Jungers.
Many large firms, Lippman said, are now combining attorneys with varying expertise – such as litigation, finance and antitrust – to form industry-specific practice groups. Health care, life sciences and entertainment are among the most common practices these firms have formed groups around.
"It's a way to be able to better market directly to their clients," Lippman said. "Aviation isn't a practice group like life sciences or digital media; it's not one of these hot new practice areas. … O'Melveny has chosen a unique branding strategy. It's smart."
Other law firms have aviation practices, but they usually focus on one or two elements, such as an aviation litigation group or an aviation finance group. O'Melveny's practice apparently stands alone in that it includes litigation, finance, labor and employment, mergers and acquisitions, and regulatory compliance, among other specialties.
Another unique aspect to O'Melveny's new aviation practice, Lippman added, is that it's very West Coast-centric.
Siegel said that even though the group has members from several other offices, it made the most sense to base the aviation group in Los Angeles.
"The expertise and practice originated here," he said, "and we had some considerable (aviation-related) litigation projects here in Los Angeles."
Prev Next
For reprint and licensing requests for this article, CLICK HERE.