Pollution Equipment Firm Cleans Up in California
MANUFACTURING: State's push to cut emissions buoys Ship & Shore's business.
Monday, October 19, 2015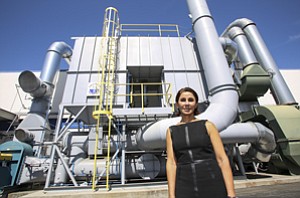 If you're a manufacturer in Southern California already complying with ozone emissions standards, news that tougher ones are on their way might send a chill down your spine – unless you're Ship & Shore Environmental Inc.
When environmental regulations get stricter, or new ones appear, business picks up for the Signal Hill designer and builder of systems that capture ozone-forming chemicals and other pollutants from industrial plants. Now, thanks to rules issued Oct. 1 by the federal Environmental Protection Agency that toughened up standards on allowable ozone levels, Ship & Shore's owners expect business to ramp up as manufacturers react to the new rules.
Anoosheh Oskouian, a chemical engineer who is the firm's co-owner and president, said that since new rules were issued at the beginning of the month she has been getting calls from across the country and has begun hiring more fabricators to build the systems, engineers to design them and sales people to focus on the market for ozone reduction.
"As soon as I read this, I started requesting more engineers," Oskouian said. "We've had a few calls from existing clients. A few have systems already and they want to add on new ones. As soon as they read an article like that, they realize that it's no longer talk, but it's in the pipeline. Ship & Shore will be growing as a result."
Changing focus
National clean air standards and California's air quality management districts have reduced the L.A. basin area's smog by 30 percent since 2000, according to the EPA, but the region still has the nation's highest ozone emissions levels.
Changing and new environmental standards are why co-owners Oskouian and John Von Bargen, a chemical and mechanical engineer, bought Ship & Shore, then a metal fabrication shop, in 2000. They saw an opportunity to expand it to design, engineer and manufacture pollution reduction systems. It now employs about 50 people working on about 55 projects a year. Though she did not disclose annual revenue figures, Oskouian said that revenue has grown 10 percent to 15 percent annually since 2010.
Ship & Shore's systems handle different toxic chemical emissions, such as hydrocarbons and volatile organic compounds that can help form ozone once they react with sunlight. Customers include makers of plastic packaging, coatings for pharmaceuticals and automotive parts as well as food processors, food flavor manufacturers and refineries. The systems cost from $150,000 to $1.5 million, Oskouian said.
Regular regulation
The latest set of regulatory changes are not the first to boost Ship & Shore's bottom line.
California's Global Warming Solutions Act of 2012, which requires sharp cuts to greenhouse gas emissions through renewable energy devices and other consumption reduction practices, helped feed a 10 percent to 15 percent boost in business over the next three years, Oskouian said. The company saw orders rise for its energy recovery systems, which capture waste heat from manufacturing equipment as it runs and convert it into thermal energy before feeding it back to fuel operations or to provide heat during cool weather.
Ship & Shore has also benefited from regulatory changes overseas. It is seeing more business in Canada and China, where enforcement and environmental rules are increasing, Oskouian said, so she has recently hired sales representatives in Canada and opened an office in Singapore earlier this year.
"Anytime there are more rules, we definitely have opportunities to do more projects," she said.
Many plastic manufactures installed Ship & Shore's energy recovery systems after the state's greenhouse gas and energy law went into effect in 2012, said Laurie Hansen Sheets, executive director of Sacramento's Western Plastics Association. (Oskouian serves on the board of the association and as a committee member for the South Coast Air Quality District.)
That law was a big deal for plastic manufacturers because their processes use a lot of energy to heat and then cool plastic pellets to form them into the final product, Sheets said.
Polystyrene foam manufacturers, whose processes emit significant ozone-forming organic compounds, have also been regular customers for Ship & Shore, Sheets said, as the industry has been addressing newer air emissions standards.
"Most companies have to hire somebody to stay in compliance," she said. "With Ship & Shore, they help the company through that, and (customers) avoid costs to just do regulation. They're known in the industry as the go-to company to get into compliance with any new emissions regulations."
Adrian Backer, president of Commerce's Signature Flexible Packaging Inc., bought his first Ship & Shore system in 2004, when he opened a plastics printing plant in Commerce.
The system, called a regenerative thermal oxidizer, costs about $325,000 and eliminates nearly all the hydrocarbons from the inks in his printer, Backer said. It also captures the waste heat from the process, feeding it back to the plant as energy when the printers are operating.
"It keeps us compliant (with local ozone levels)," Backer said. "The bulk of our customers are in California – the food packers in San Joaquin Valley that pack fruit and vegetables. I want to stay local and our customers want to have a local flexible packaging manufacturer."
He's also a return customer. Last year, he bought a second Ship & Shore system for a new printing press. He was able to get a rebate from Southern California Edison of nearly $50,000 toward the cost of the new system.
A Southern California native, Backer said he remembers the smog inversions that made his eyes and lungs burn when he played outside as a child.
"There's a sense of satisfaction that we're not adding pollution to the air," he said.
For reprint and licensing requests for this article, CLICK HERE.