Flight Path
Jet Edge International rode large-cabin focus to get aircraft repair business off ground.
Monday, October 19, 2015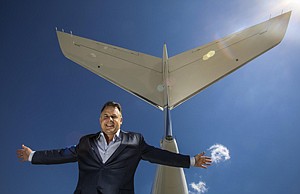 They found Jet Edge, a maintenance and repair shop for private jets at Van Nuys Airport, one of the nation's two busiest airports for personal aviation. It was a top-notch shop, Papariella said, highly regarded and trusted for its operations and technical expertise – and it was the largest independent repair business in the country for large-cabin private jets.
"That industry was shrinking and providing less services for large-cabin clients," Papariella said, "so I thought there was a seam to be filled doing large-cabin jets management. I thought Jet Edge presented the opportunity to build a large-cabin fleet and create commonality between fleet types and market that to the wealthy population."
Bard and Papariella bought Jet Edge in 2011 for less than $10 million, Papariella said, and retained founder and owner Jim Hansen as executive vice president.
Growth
With Papariella and Bard in control, Jet Edge moved to ramp up business. It staffed up with private-aviation executives to manage sales, finances and maintenance, setting aside 20 percent of the equity for new hires.
"A lot of senior executives own part of their companies; this makes it so they don't want to leave," Papariella said. "It's true equity in the company – not in options. That's made all the difference in the world."
Now handling sales, Papariella leveraged Bard's reputation and relationships in wealthy circles to gain customers. He targeted large-cabin jet owners and pitched the company on his ideas of how to manage the costs of owning a jet. Commonality is one method. Another is to pass through operating and managing costs such as fuel, repairs, parts, food and fees, directly to owners so they could see the expenses.
"By providing transparency to the owners, in return they're way more receptive on areas where we've told them we're making money," he said.
Papariella's open about explaining to customers how he makes his money – by taking 15 percent of the cost of flights he arranges for his customers. As an example, an average roundtrip flight to New York from Los Angeles costs $67,000, with Jet Edge getting $10,050.
The approach has worked and Jet Edge's business has grown entirely by word of mouth, according to Papariella. From the four jets managed by the original business, the firm grew to 12 by the second year and 32 by the third. Jet Edge expects to be managing 51 jets by December, Papariella said.
For reprint and licensing requests for this article, CLICK HERE.