Dialed In
Phone data used to make microloans in Africa
Monday, October 19, 2015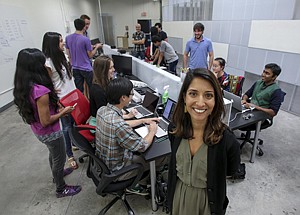 Despite microfinance's reputation as an innovative method for lifting people out of poverty, the scheme hasn't evolved much since it was invented in the 1970s.
But Santa Monica's InVenture Capital Corp., which last month landed a $10 million Series A round from some big-name investors, has industry watchers excited. The reason: Its model could revolutionize the industry.
The world of microfinance is characterized by individual loan agents trekking from village to village in developing countries looking for prospective borrowers. Loans are passed out in cash. In place of collateral, lenders issue loans to a group of debtors to reduce risk – if one person in the group defaults, it hurts everyone else's credit, too.
Not only has that social pressure tactic drawn some criticism, but experts also bemoan the industry's inefficiency. It's hard to grow a microloan business by giving out tiny loans one at a time.
InVenture hopes to change all that through its Android app, Mkopo Rahisi, which means "easy loan" in Swahili. Since March 2014, the firm has issued more than 80,000 loans, totaling more than $4 million, to borrowers in Kenya and Tanzania. That figures out to about $50 a loan – which underscores the meaning of "micro." So far, 88 percent of the loans have been fully repaid with many of the remainder only partly repaid or deferred.
The company has achieved that high loan volume with only 10 employees in Africa. The startup's 15 other staffers work in Santa Monica.
InVenture can rapidly originate so many small loans because of the widespread adoption in its target countries of cellphones, which have effectively become wallets for many people. The currency they carry is called "m-pesa," a form of tradable cellphone minutes used by 67 percent of Kenyan adults to buy goods and services.
Significantly, m-pesas create an electronic transaction trail that gives InVenture a record of the spending habits and income patterns of borrowers, who are Kenya and Tanzania's poorest citizens.
African commerce
By connecting to users' m-pesa accounts, as well as other nonfinancial data stored within their phones, InVenture claims its data-crunching app can weigh about 10,000 variables, infer credit worthiness and issue a loan to a borrower's m-pesa account within about a minute.
"Through the mobile phone you not only get this rich transaction data: merchant payments, utilities, water payments, school fees," said InVenture Chief Executive Shivani Siroya, "but we are also getting behavioral information: how they are moving throughout the day, social data, how they use their phone."
Nonfinancial information can be particularly insightful to the firm.
"In Kenya, making a phone call at night is more expensive than during the day.
If someone had more disposable income, then they are more likely to make a phone call at that time," said Siroya, meaning night-time phone users tend to be better borrowers.
InVenture's loans range from $20 to $100, and carry a repayment term of 30 days and interest rates between 5 percent and 11 percent. The majority of borrowers take out between seven and nine loans over a year. The money is often used as startup cash for street vendors or by market merchants loading up on inventory to sell, such as fresh fruits, clothing or electronics.
About 65 percent of customers use the money as working capital, said Siroya, while roughly 10 percent of the loans are used for consumer purchases of durable goods, such as refrigerators or televisions. Unexpected expenses, such as medical emergencies or vehicle fixes, cover the other 25 percent.
InVenture doesn't distinguish between individual loan uses, focusing its attention solely on the ability of a customer to repay.
"We don't deny a customer based on what the loan is going to be used for," said Siroya.
That is a lesson widely learned across microlending. Because of the chaotic nature of life at the bottom, it doesn't make sense for InVenture to distinguish entrepreneurs from those needing to fix a leaky roof.
"It's not easy to distinguish business loans from consumption loans," said Bhagwan Chowdhry, professor of finance at UCLA's Anderson School of Management. "You can have this romantic notion of the poor being entrepreneurs, but they are not entrepreneurs by choice."
As in the United States, the failure rate of startups is quite high in Africa, so many small merchants would get a better return on their time and labor by working for a large, stable corporation, said Chowdhry.
Still, InVenture's investors see its understanding of credit among the fledgling yet growing businesses of Africa as a path to bigger opportunities.
InVenture is tapping into the life blood of commerce in these developing countries, said Zachary Bogue, managing partner at San Francisco's Data Collective, the lead Series A investor in the company. Other investors include Google Ventures and Lowercase Capital.
Africa's middle class is projected to grow to 1.1 billion
people by 2060, according to the African Development Bank. InVenture is aiming to tap into that growth by applying its business model and algorithms in other developing countries, said Bogue. Moreover, if a few of the company's microborrowers spin their loans into larger businesses, InVenture would be poised to offer them slightly larger loans as well.
"It's a competitive advantage," said Bogue, who suggested the expansion of the global middle class means InVenture will only have more lenders to choose from going forward. "We have user profiles on a massive number of users and we understand their credit better than anyone else in the world."
For reprint and licensing requests for this article, CLICK HERE.