Virtual Change
Blockchain Capital sees real money in bitcoin and digital currency's tracking technology.
Sunday, October 11, 2015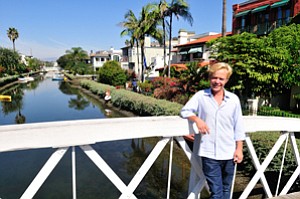 'Wild West'
Bitcoin could use a champion because the complexities of the cryptocurrency have helped people to exploit it.
Launched online by mysterious creator Satoshi Nakamoto in 2008, bitcoin is a digital unit of exchange tagged with unique encrypted computer codes. While currencies are monitored by central government authorities, such as the Federal Reserve, bitcoin circulation is regulated by its software program. Bitcoin ownership is registered by a public ledger software program called the blockchain, from which Pierce's firm took its name.
However, the commodity has become a favorite of criminals. It became infamous as the method of choice for buying drugs and weapons on online black market Silk Road, which was shut down by the FBI in 2013. Pierce notes that many of those criminals were stunned to find out that bitcoin's public ledger makes it difficult to remain anonymous. That included two FBI agents in March who were arrested and accused of pocketing $1 million worth of bitcoins during the Silk Road sweep.
The FBI points out that virtual currency schemes reported to the agency's Internet Crime Complaint Center more than doubled in 2014 compared with the year before.
Many people complained of being tricked into giving their bitcoins to criminals or having their bitcoins stolen out of poorly secured digital wallets. Though the $375 million invested in bitcoin startups in the first half of 2015 has already topped total investment from last year, according to database CB Insights, many investors remain wary.
"It's the questions I don't know to ask that scare me about investing in the space," said Peter Lee, managing partner at Beverly Hills venture firm Baroda Ventures. Despite Lee's hesitation, the firm has still invested in two bitcoin companies. "It is very early days. It's the Wild West."
Baroda may also invest with Blockchain, said Lee. Though no final decisions have been made, Baroda is looking to Blockchain as a guide through the Byzantine bitcoin world.
"If you don't spend a lot of time, it's very different to know what is innovative, what is cutting edge," said Lee.
And the market does move fast.
Two years ago, speculative betting drove bitcoin prices to a peak of $974 a unit. Now bitcoin is trading at $244. Many other investors have decided to steer clear of that wild swing.
Mining coins
These days, Pierce is a big believer in bitcoin's potential as a payments system in developing countries such as Kenya or as a wealth preservation tool in countries prone to printing money, such as Argentina.
For reprint and licensing requests for this article, CLICK HERE.