Venture Bad Fit For Jeans Firm
APPAREL: DSTLD turns to crowdfunding for equity raise.
Monday, October 5, 2015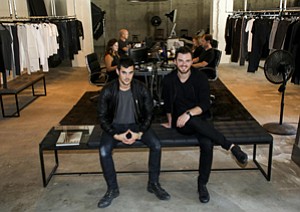 Wary of the pressure venture capitalists put on startups to grow at breakneck speed, online jeans seller DSTLD indicated last week that it wanted to raise $10 million in a crowdfunded public stock offering.
DSTLD initially floated the idea in an email blast to 25,000 of its customers and on equity-crowdfunding platform SeedInvest of New York. So far, prospective investors have shown they would be willing to buy more than $8 million worth of the company's stock.
Founded in 2012, the Beverly Grove firm sells premium jeans directly to consumers for $65 and $85 from its website. The prospect of cutting retailers out of luxury clothing sales initially helped the startup raise $4 million in November from prominent venture capital backers such as Century City's CAA Ventures and Venice accelerator Amplify.LA.
But now, despite claiming 640 percent year-over-year revenue growth, DSTLD says venture capital is a poor fit for its long-term growth prospects.
"When they look at us, they say this is going to be a very good business, but it's not going to be a $2 billion business in the next 26 months," said co-Chief Executive Mark Lynn, who founded the company with Corey Epstein, its co-chief executive. "The venture dollars are chasing a very specific type of opportunity."
Venture capitalists, said Lynn, are focused on startups capable of achieving quick billion-dollar valuations, known as unicorns.
That's left company founders with more moderate growth rates with an unwanted choice: either give up a larger piece of the company than they'd like – and a board seat – or risk perishing for lack of money to grow.
Alternative backers
"You have this highly profitable industry that is leaving a lot of people unhappy," said Ron Miller, chief executive of Santa Monica crowdfunding platform StartEngine, regarding the venture capital process. "Once entrepreneurs realize that they can raise capital using Regulation A+ and control the terms of that investment, I think more entrepreneurs will become highly motivated and interested."
DSTLD sees a small public offering as a viable middle ground. If it works, others could follow the company's lead.
"I don't necessarily think it is about getting better terms as much as it is having more alignment between the investor base and the management of the company," said Lynn. "Someone putting $1,000 into the company isn't looking to have an outcome in the next 26 months."
Lynn figures nonaccredited investors, those with net worth less than $1 million or annual incomes less than $200,000, will jump at the previously barred opportunity to invest in startups. Whereas venture capitalists often pass on Series A deals not likely to return 10 times their investment, retail investors would be quite happy to make smaller multiples, he said.
DSTLD can do this under a new provision of the Jumpstart Our Business Startups Act called Regulation A+. The rules, finalized in June, allow startups to raise a maximum of $50 million in a 12-month period from nonaccredited investors. With less expensive oversight than a typical initial public offering, Regulation A+ stock sales appeal to cash-strapped startups.
Though a public offering will crowd out some future venture capital investment, Lynn said DSTLD's institutional investors are warming to the idea.
"Some of them were a little skeptical at the onset, but now I think they've seen there's been so much interest. Everybody is coming around," said Lynn.
Seed investor Adam Lilling, managing director of venture firm Plus Capital of Culver City, said he sympathizes with the company's plight after its principals pitched him the idea.
"When they said it to me, I said, 'I would like to see this work in the world,'" said Lilling. "There are fashion and lifestyle brands … that could sell for $50 million, $100 million, $250 million. They are not ripe for venture capital because they're not building $25 billion companies."
Citing a rule of thumb in the venture capital industry that says 20 percent of investments bring positive returns to a fund while the rest bring modest, break-even or negative returns, Lilling explained there's a lot of pressure for venture-backed companies to grow their valuations into the billions of dollars.
"Venture capital economics are such that home runs cover the whole fund. You don't hit singles or doubles," said Lilling. "That's why people look for the Ubers, the Facebooks."
What's more, DSTLD is hoping a broader investor base, especially one drawn from its customers, will create a small army of marketers.
"The opportunity to turn some of our customer base into the ultimate evangelizers, which are potentially owners in the business, was really appealing to us," said Lynn.
Excitement aside, before DSTLD moves forward with a public offering of its stock it will need to have legal reviews of its terms and audits of its business mandated by the Securities and Exchange Commission. At a minimum, it will take 22 weeks before a public offering occurs. And it will not be cheap. DSTLD has set aside $250,000 to cover those costs and Lynn said anything less than $2 million in equity sales won't make the effort worthwhile.
For reprint and licensing requests for this article, CLICK HERE.