Different Spin
Musician Moby is more concerned with serving tasty vegan fare than record turnout for his new Silver Lake eatery, Little Pine.
Monday, November 23, 2015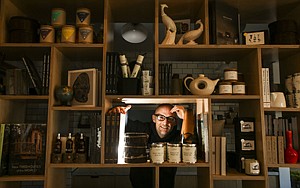 Acclaimed musician Moby, a gung-ho vegan for 28 years, is putting his animal rights enthusiasm into the kind of venture where many celebrities have tried and failed: a restaurant. And Little Pine, just opened in Silver Lake, bears quite a few red flags.
"A traditional entrepreneur would never ever in a million years want to open a vegan restaurant that serves organic food that's open for 15 or 16 hours a day," Moby said last week, seated at Little Pine in a green booth surrounded by floral-print pillows, wearing jeans and a hoodie.
Good thing he is untraditional, to the point that making money is almost an afterthought.
"To me, the financial bottom line – it's sort of the bottom of the list," Moby said. "Unless it's, like, egregiously hemorrhaging money."
But that's not something the 50-year-old musician plans on. Moby, born Richard Melville Hall, has sold more than 20 million records worldwide as a singer-songwriter and electronic music composer. He bought a castlelike mansion in the Hollywood Hills several years ago after living in New York, and now considers Los Angeles his home. Little Pine is his chance to showcase vegan cooking at its finest, housed in a comfy, artfully designed neighborhood hangout.
Moby is shoring up that vision with business tips he picked up from a decade running a vegan café in New York called TeaNY, which he left when he moved to Los Angeles.
He didn't want to tussle with a landlord, so he bought a corner building on Rowena Avenue whose sleek geometrical flourishes caught his eye. He budgeted enough money to do a meticulous remodel, including plumbing and lighting upgrades that he believes could help him one day sell the building at a profit. He also set aside enough money to keep the business running for a year if profits are weak.
Moby also thinks he will avoid the typical celebrity pitfall of creating a vanity project. You won't see his name – or hear his music – anywhere at Little Pine. And, unlike some other celebs he could mention, he's not in it for the money.
Vegan moment
Money might not be his main motivation, but fortunately for Moby, vegan food is entering a hip – and profitable – moment, especially in Los Angeles. Once only on menus at hippie cafés, it's now getting the fine-dining treatment, complete with a devoted celebrity clientele.
Moby sees Silver Lake – a hot neighborhood for L.A.'s creative class – as just the spot to draw vegan and nonvegans alike in a city that's rapidly accepting nonmeat cuisine.
"The old clichés surrounding veganism don't really exist so much in L.A.," he said. "Almost everyone I know in L.A. has at some point had a really great vegan meal that doesn't involve flax and mashed yeast."
The posh, "plant-based" Crossroads in West Hollywood has racked up rave reviews for items such as the fried oyster mushrooms served on artichoke leaves and tortellini stuffed with tomatoes and almond cheese. The vegetarian Café Gratitude has expanded to seven locations, including three in Los Angeles and one as far as Kansas City, Mo. Next up, it will open a fancier version in Newport Beach, stocked with a full bar. And sister restaurant Gracias Madre in West Hollywood serves vegan Mexican food from butternut squash quesadillas to "cashew nacho cheese."

Gracias Madre chef Chandra Gilbert said diners are increasingly flocking to vegan food as a healthy fine-dining option, even if they chow down on steak the rest of the week.
"I think that the conversation might go like: 'Do you want Vietnamese?' 'Oh, let's get some vegan food.' It'll be another culinary choice," said Gilbert, who is not a strict vegan herself. "It's no longer something out of the early 1970s that wasn't palatable."
Bob Woolway, a managing director at Brentwood restaurant industry-focused investment bank Trinity Capital, said many diners – especially millennials – want restaurant options that are both socially responsible and healthy.
"Anywhere from 35 to 45 percent of Americans are interested in eating nonmeat, nondairy options at least weekly," he said.
Even mainstream fast-casual eateries such as Denver's Chipotle Mexican Grill Inc. are scrambling to provide vegan options, catching up with quickly expanding vegetarian chains Veggie Grill in Santa Monica and Chicago's Native Foods Café. The challenge will be keeping prices low as chefs reinvent the chicken sandwich with recipes that could be complicated and costly.
At Little Pine, chef Kristyne Starling, who previously cooked at Aventine in Hollywood and Mess Hall in Los Feliz, is planning an extensive menu to fill the daily hours of 7:30 a.m. to midnight. One dish may be farro salad tossed with butternut squash and pomegranate. Dinner might feature pasta shells stuffed with spinach and faux-ricotta cheese. Moby said he was especially impressed with her cassoulet, a French stew traditionally made with meats such as pork and duck. Little Pine's will be heavier on the tomatoes.
The food will have one thing in common – organic ingredients only, a luxury that will bump up costs by 20 percent, although Moby said he wants to keep prices moderate. But while everyone loves a deal, local Silver Lakers lining up for organic vegan food probably aren't the same families who need to stretch their paychecks on instant mac and cheese.
In addition to swallowing high food costs, Moby plans to give his 45 employees relatively higher salaries than at comparable restaurants, along with health insurance.
"A business by definition impacts people, communities and the environment," he said. "Why not do so in a way that's in keeping with your principles?"
Community space
Yet Moby didn't want to hand out manifestos with the menus. The musician wants Little Pine to feel like an "effortless community space," just like Parisian bistros that draw locals for tea in the morning and romantic dinners at night.
Moby scrutinized every detail of the restaurant's design, which was overseen by downtown L.A. decorating company Studio Hus. A stylized deer head made out of wooden slats peers out over the dining room, which seats about 50 people.
Photographs adorn the walls that Moby took on hikes in the Los Angeles National Forest and Mount Baldy, which inspired the restaurant's name. Soy candles, sage leaves, notebooks and other knick-knacks are for sale by the front door. Sunlight streams in through large windows bearing pale linen curtains.
Moby, who will release a memoir in the spring but has not announced new album plans, said he plans to spend as much time as he needs at the restaurant to keep his vision on track.
One daily job will be monitoring the music, working with staff to select tunes to fit the time of day, classical in the morning to modern at night. But nothing too crazy.
"No Top 40, no super-loud techno or EDM, no Top 40 hip-hop, no modern rock," he said. "It's basically David Bowie and Bon Iver and Neil Young."
No ear-blasting decibels, either.
"We basically have a rule that the music can never be louder than the conversation," he said. "I hate loud music in restaurants."
The conversation could get noisy if the place gets swarmed with fans. But Moby doesn't worry about diners clamoring for selfies and autographs.
"There are so many A-list actors and musicians within walking distance of the restaurant, that why would they care that I'm involved?" he said.
For reprint and licensing requests for this article, CLICK HERE.