Different Spin
Musician Moby is more concerned with serving tasty vegan fare than record turnout for his new Silver Lake eatery, Little Pine.
Monday, November 23, 2015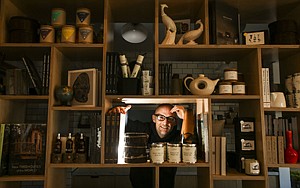 Acclaimed musician Moby, a gung-ho vegan for 28 years, is putting his animal rights enthusiasm into the kind of venture where many celebrities have tried and failed: a restaurant. And Little Pine, just opened in Silver Lake, bears quite a few red flags.
"A traditional entrepreneur would never ever in a million years want to open a vegan restaurant that serves organic food that's open for 15 or 16 hours a day," Moby said last week, seated at Little Pine in a green booth surrounded by floral-print pillows, wearing jeans and a hoodie.
Good thing he is untraditional, to the point that making money is almost an afterthought.
"To me, the financial bottom line – it's sort of the bottom of the list," Moby said. "Unless it's, like, egregiously hemorrhaging money."
But that's not something the 50-year-old musician plans on. Moby, born Richard Melville Hall, has sold more than 20 million records worldwide as a singer-songwriter and electronic music composer. He bought a castlelike mansion in the Hollywood Hills several years ago after living in New York, and now considers Los Angeles his home. Little Pine is his chance to showcase vegan cooking at its finest, housed in a comfy, artfully designed neighborhood hangout.
Moby is shoring up that vision with business tips he picked up from a decade running a vegan café in New York called TeaNY, which he left when he moved to Los Angeles.
He didn't want to tussle with a landlord, so he bought a corner building on Rowena Avenue whose sleek geometrical flourishes caught his eye. He budgeted enough money to do a meticulous remodel, including plumbing and lighting upgrades that he believes could help him one day sell the building at a profit. He also set aside enough money to keep the business running for a year if profits are weak.
Moby also thinks he will avoid the typical celebrity pitfall of creating a vanity project. You won't see his name – or hear his music – anywhere at Little Pine. And, unlike some other celebs he could mention, he's not in it for the money.
Vegan moment
Money might not be his main motivation, but fortunately for Moby, vegan food is entering a hip – and profitable – moment, especially in Los Angeles. Once only on menus at hippie cafés, it's now getting the fine-dining treatment, complete with a devoted celebrity clientele.
Moby sees Silver Lake – a hot neighborhood for L.A.'s creative class – as just the spot to draw vegan and nonvegans alike in a city that's rapidly accepting nonmeat cuisine.
Prev Next
For reprint and licensing requests for this article, CLICK HERE.