High on Weed
MARIJUANA: MedMen hopes to smoke out opportunities for its managerial services in blooming pot sector.
Monday, November 16, 2015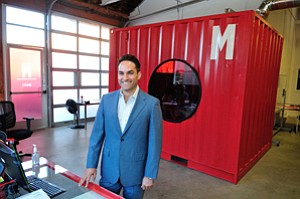 Dayton said larger investors, not just angels, are increasingly looking to back pot businesses with significant traction as well as potential to scale and generate big returns.
These backers are chasing what has become a $4.7 billion U.S. market for legal cannabis, which is expected to balloon to $17.5 billion by 2020, according to data analytics firm New Frontier Financials.
But Dayton cautioned that while large companies might have money and talent, they must also cultivate the authenticity prevalent in smaller businesses.

"If they don't also have a strong story and strong values and connection to the plant and politics, then they run the risk of looking too corporate," he warned.
Budding business
Bierman and MedMen co-founder Andrew Modlin previously started branding, design and construction firm Modman Enterprises in 2009, helping clients such as Santa Monica's Kreation Juicery Inc. and a Beverly Hills GoGreek Yogurt franchisee launch brands, products and stores.
After being asked to consult on a small medical marijuana dispensary, which Bierman said he found in disarray but still bringing in significant revenue, the duo thought they could do better.
They launched MedMen in 2010, opening and operating dispensaries across Los Angeles. After several years, Bierman said he saw a bigger opportunity in lending management expertise to licensed growers, manufacturers and retailers.
MedMen got rid of its local businesses in 2013 when the L.A. medical marijuana market was looking murky without a statewide regulatory framework. As a bridge into large-scale operational management, the firm began helping businesses across the country with license applications.
Bierman doubled the firm's eight-person head count, hiring executives from mainstream companies such as yogurt maker Chobani in Norwich, N.Y., and ArcLight Cinemas owner Decurion Corp. of Los Angeles.
Today, MedMen resides in a Culver City warehouse that looks more like an ad agency than cannabis company due to its numerous stylistic flourishes such as a shipping container-turned office.
While the consultancy was earning about $2 million a year in revenue, that's been greatly reduced as MedMen brings new management projects on line. Bierman said the firm is still six to nine months away from recognizing that revenue.
For example, one client is building a $12 million, 45,000-square-foot cultivation and production facility on four acres outside of Reno, Nev. 
MedMen's compensation varies by contract, but is tied to performance. It might take a percentage of a client's earnings in states where that's allowed.
Though it might seem MedMen's business model could put the business in a position where it's servicing firms that compete with one another, Bierman said that shouldn't be an issue, pointing out that Four Seasons Hotels Inc. doesn't see a conflict in managing two hotels in Beverly Hills.
"We're definitely not going to take on deals where we're going to cannibalize ourselves, but that doesn't mean I can't operate multiple businesses within the same jurisdiction and be successful all the way around," he said.
For reprint and licensing requests for this article, CLICK HERE.
Prev Next