CBS on 'Trek' To Streaming
Monday, November 16, 2015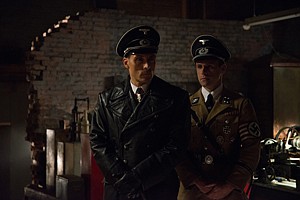 Now that CBS Corp. is entering the ultracompetitive online TV market by announcing its new "Star Trek" series will air exclusively on its CBS All Access site, rival platforms are boldly going to war in a high-stakes battle for viewers.
The likes of Amazon.com Inc.'s Prime Instant Video, Netflix Inc. and Santa Monica's Hulu have stepped up their own original programming offerings to incentivize consumers to pick their service over the rest.
"The stakes are enormous for the streaming services and this increased competition means more choices for the consumer and, thus far, no increased pricing," said Peter Klaas, who advises entertainment companies as senior manager at Westwood accounting firm Green Hasson Janks.
While ratings are closely guarded by streaming video-on-demand services, Klaas said Internet usage data offers some clarity as to who is coming out on top so far. He noted that more than 50 percent of the U.S. population with broadband access is using Netflix at least once a week, while Amazon Prime and Hulu each get less than 20 percent.
Uri Fleming, partner at Westwood entertainment law firm Kleinberg Lange Cuddy & Carlo, who frequently represents media firms in content deals, said there will eventually be some attrition.
"The market probably can't support more than two or three big multicontent streaming services," said Fleming. "I don't think customers will be willing to pay for too many of them."
The move into digital distribution, he explained, represents a desire by media giants to stay relevant among younger viewers, who are increasingly accessing content on different platforms.
"Industry players are competing to catch these eyeballs to both make up for their losses in TV and grow their new business units," he added.
The "Star Trek" announcement is significant in that CBS has become the first broadcast network to produce a series exclusively for its streaming service.
Fleming said CBS made a smart move by selecting a well-known entertainment brand as its initial digital-first show.
"In 'Star Trek,' they've found a property that has a big and dedicated following that is more likely than a general audience to pay for the ability to watch that show," he said.
Big pond
However, CBS All Access is competing against platforms with much larger audiences. Despite that obstacle, the network said it is confident of closing the gap by convincing the large and rabid Trekkers fan base to pay for the new series, which will debut in January 2017.
"We have an incredible opportunity to accelerate the growth of this service by boldly going where no first-run 'Star Trek' series has gone before – directly to its millions of fans through CBS All Access," said CBS Digital Media Executive Vice President Marc DeBevoise, in a statement.
But the rival services all have additional content plans to combat CBS All Access, a $5.99-a-month service offering episodes of current hits, such as "The Big Bang Theory," and a library of classics, including "The Twilight Zone," "I Love Lucy" and the five previous "Star Trek" TV series.
As the competition raises its game, Netflix spokeswoman Anne Marie Squeo said the market leader will follow its same strategy in a bid to stay ahead.
"We compete with lots of companies and activities that demand people's time and attention. The goal is to provide an easy-to-use service with compelling content provided for a reasonable price," she said.
The Los Gatos company will debut the newest series in its content partnership with Walt Disney Co.'s Marvel Entertainment, "Jessica Jones," on Nov. 20. Chelsea Handler's new talk show will launch next year as Netflix continues to mix original programming with popular movies and TV shows.
Netflix claims 69 million subscribers worldwide, including 42 million in the United States, where it costs $9.99 a month for streaming.
Fresh from two Emmy wins and two Golden Globes for its transgender sitcom "Transparent," Amazon Prime's next original programming hope is prestige drama "The Man in the High Castle," launching Nov. 20, which is set in an alternative America where the Allies lost World War II.
Jeremy Clarkson and the other former co-hosts of globally popular BBC motoring series "Top Gear" will also star in a car show launching on Amazon Prime next year.
Rather than a monthly fee, Prime subscriptions cost $99 a year, though a membership also includes shipping discounts on Amazon purchases as well as streaming music access, photo storage and other benefits.
Hulu, which is jointly owned by 21st Century Fox, Disney and NBCUniversal Media, has turned to "Star Wars: The Force Awakens" director J.J. Abrams to produce "11/22/63," an adaptation of a Stephen King novel that stars James Franco as a teacher who travels back in time to try and stop the Kennedy assassination. The project, which will premiere in February, complements a library of hit shows such as "Seinfeld" and "South Park."
Hulu's competitive advantage is that it offers viewers the chance to watch many network TV shows the day after they air. It reports 9 million subscribers who pay either $7.99 a month to watch content with ads or $11.99 a month without them.
TimeWarner Inc. of New York is reportedly interested in buying a stake in the firm.
A recent entrant into the streaming wars is HBO's new $14.99-a-month video-on-demand service, HBO Now, a standalone service that differs from the cable giant's HBO Go offering in that it doesn't require a subscription to the premium cable channel. Both digital services will feature HBO's newest star signing, former "The Daily Show" host Jon Stewart, who earlier this month signed a four-year deal to produce content that will air first on HBO's on-demand sites.
The newest addition to the streaming battle is Google Inc.'s YouTube Red, which offers ad-free YouTube videos combined with original shows and movies from popular YouTube content creators for $9.99 a month.
For reprint and licensing requests for this article, CLICK HERE.