Ringing Up VIPs
RETAIL: Luxury brands say exclusive lounges sit well with high-net-worth, celebrity customers who need their space.
Monday, November 9, 2015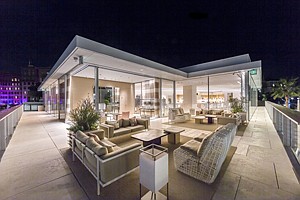 Burberry's four-story Beverly Hills location, which opened last year, has its VIP salon on the top floor. In addition to a wraparound terrace, kitchen, private bathroom and changing room, personal shoppers are also tasked with pulling together merchandise that might be of interest to customers. And, of course, the clothes can be served with a side of champagne or espresso.
The goal of most stores, said Spataro, is to make the exclusive salon feel like a living room as opposed to a traditional retail shop.
Meredith Kaplan, owner of luxury boutique Gratus, said she definitely strived to create a residential feel at her new store on Canon Drive.
"When walking into Gratus, we want clients to feel like they are shopping at their best friend's place," Kaplan said, adding that she hopes the intimate experience will carry over into the VIP salon. "(It) will be set up like the beautiful home closet that every woman desires."
Spataro said Tiffany's VIP salon will offer a private space for shopping and showcasing larger jewelry pieces in a lush and comfortable setting.
"It's more of a residential feel, so very plush carpeting and a lot of fabrics," Spataro said. "Typically, in some of these high-end luxury stores the sales floor is stone with very rigid, hard surfaces, but it changes when they're in the VIP room."
Some are more than just a room. Both Tory Burch and Saint Laurent decided to turn their entire third floors into a dedicated VIP space.
Robert Cohen, Southern California president of New York real estate brokerage Robert K. Futterman & Associates, said luxury retailers often take steps to ensure privacy and exclusivity for wealthy customers.
"If you look at Rodeo Drive, they've always had a (separate) VIP entry – whether it's Chanel or Ralph Lauren – and they all offer a concierge type of service," Cohen said. "I think it's interesting because it's been elevated with the renovations on Rodeo Drive."
It's a trend that is even spreading to other industries, he added.
"Hotels are offering more luxury suites and you're seeing this with air travel where you have your own private salon on airplanes," he said.
Spataro said the salons' value proposition boils down to providing exceptional customer service for high-net-worth individuals and celebrities, who want to be treated with extra care.
"It's spectacular – if you can get up there," he said.
Prev Next
For reprint and licensing requests for this article, CLICK HERE.