L.A. Agencies Hiring Like Mad Men
ADVERTISING: Firms search beyond industry in staffing spree.
Sunday, May 31, 2015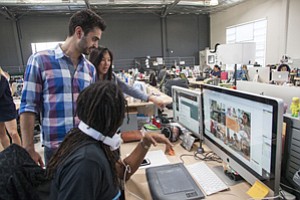 Local ad agencies are riding high on a wave of new client wins – one industry insider said some major brands even send out request for proposals specifically asking for agencies in Los Angeles.
And every new client means more money to go on a hiring spree.
But with so many agencies hiring up, they're exhausting the region's pool of ad talent, pushing agencies such as Deutsch LA, Pitch and Troika to take on workers with little or no advertising experience, from anthropologists to engineers to stock brokers.
"There are moments in time for every agency when you get your big account and you have to hire 30 people – car accounts you have to hire hundreds," said Rachel Spiegelman, president of Pitch in Culver City. "Name any industry where you can blink an eye and hire X amount of quality people. It's hard enough to find one."
Agencies have long complained about an ad talent crisis and have taken steps to fix it, trying to make themselves among the most attractive places to work by building dog-friendly offices and serving beer, starting incubator programs to help fund employees' startup ideas and even creating their own in-house schools to foster ad talent.
But now the competition for ad talent is fiercer than ever, as agencies are pushed to offer more for their clients – from creating apps to producing documentary films – and as the worlds of advertising, media and tech converge, throwing the likes of Google Inc. and Facebook Inc. into the hiring mix.
Matthew Stefl, a clinical professor of marketing and co-director of ad program M-School at Loyola Marymount University, said when he started in advertising 16 years ago, agencies had cornered the market for cool company culture. But not so anymore.
"All of a sudden companies like Google and Facebook, who are half-advertising, half-media companies, also became fun places to work at," Stefl said. "Good people aren't just flocking to advertising anymore."
Now hiring
Advertising experience might be helpful but it's certainly not a requirement anymore. Just ask Susan Kresnicka, who has a degree in anthropology and now works at L.A. agency Troika.
She's there to help clients understand their target audiences and the prevailing cultural climate at a deeper level, she said.
And she's noticed that others with advanced social science degrees are having a bigger appetite for working in advertising.
"In certain academic disciplines, there has been a tremendous stigma to working in the commercial sector in general, and marketing and advertising in particular," she said. "But this seems to be softening given the shortage of professional academic positions."
There are plenty of other examples of agencies hiring talent from well outside the traditional sources: art and advertising schools.
Brian Dunbar, president of El Segundo's David&Goliath, said agency experience is helpful, but that he's on the lookout for anyone who is a creative thinker, regardless of their background.
"We have a strategic planner who has a Ph.D. in British literature and used to be a college professor," Dunbar said. "Our head of digital production was formerly an intelligence officer in the Marines. Our head of art production used to work on the trading floor of a stock brokerage."
Of course, agencies are also looking for talent in fields a bit closer to the ad world. Last month, Pitch's Spiegelman hired Justin Ballheim as strategic planning director. Ballheim hadn't worked in advertising per se, but had worked with agencies at consumer goods giant Unilever.
"At the end of the day, a lot of the work is the same," Ballheim said. "But it's a shift in perspective. I would say there's more creative brainstorming and you just get a different energy."
Big wins
Since Los Angeles is becoming known as a hub of creative ad talent, some brands are specifically asking for L.A.-based agencies when sending out requests for proposals.
That means local agencies must continue looking for out-of-the-box talent as they try to keep up with a hiring spree that took off last year.
All but two of the top 10 largest ad agencies on the Business Journal's annual agency list beefed up their ranks over the past year, with a few firms adding more than 100 employees each. Hollywood's Trailer Park, which ranked No. 2 on the list, was the fastest-growing agency, adding 139 employees and swelling its head count to 560. It has added employees since then.
Rick Eiserman, chief executive of Trailer Park, told the Business Journal in April that new business wins were behind the firm's growth.
The same can be said for Deutsch LA in Playa Vista, which has been hiring up after winning 10 accounts last year, including Sprint Corp. and Pizza Hut. This year alone, the agency added 142 employees and has been looking to fill 30 more positions, which would put its head count at more than 600.
Winston Binch, Deutsch's chief digital officer for North America, said the agency has also been hiring from outside of the traditional ad world, but not because of a lack of talent. Rather, he said, his and other agencies need employees with different backgrounds and new skills in order to stay competitive.
"We can't just hire art and copy," Binch said. "We have to hire coders and engineers. We need to change our view of what creative is. And it's actually kind of a joke that the ad world still has a creative department when really creative comes from different places."
But even pulling from a broader pool of candidates, he said it's gotten harder to hire as there's more competition for young talent.
"When you have platforms out there like Buzzfeed, Vice and Google who are trying to monetize their platform, there's a real need and opportunity for them to get into this business because they want more ad dollars," Binch said. "So we're all looking for the same talent."
That's why agencies such as Pitch and Santa Monica's RPA continue to hire people with different experiences and backgrounds.
David Berne, RPA's senior vice president and director of strategic planning, said while it might be more difficult to fill midlevel or higher ad positions by those without ad backgrounds it's not impossible.
"I think the job can be learned," Berne said. "I think the ability to see the world in interesting ways comes from other kinds of experiences. If everybody hired has the same background, you get the same answers every time."
For reprint and licensing requests for this article, CLICK HERE.