Court to Make Call on On Call
SECURITY: Ruling on guards' breaks may pinch all industries.
Monday, May 25, 2015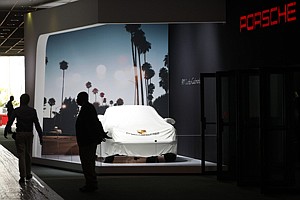 The break room might be getting more crowded.
The seven-member state Supreme Court has walked into a decadelong dispute over whether workers can be interrupted during their breaks. The decision would have wide-ranging – and potentially costly – repercussions for many businesses.
The case centers on New York's ABM Security Services Inc., which might soon have to pay close to $90 million to nearly 15,000 current and former security guard employees in California who claim the company deprived them of state-mandated rest breaks.
Whether the court upholds that judgment or disallows it, said Todd Scherwin, regional managing partner at labor and employment law firm Fisher & Phillips in downtown Los Angeles, will impact businesses in virtually every industry.
"The amount of time, effort, money, legal fees and brain power that has been spent over the past few years … it would make you cringe to think about the amount of time people fight over what's a break and what's a lunch," Scherwin said.
Such is often the case for ABM, which employs thousands of security guards throughout the state. At some sites, only one security guard is on duty, while dozens could be working at others.
Regardless of the number working, security guards are responsible for addressing every emergency situation while on duty. That means he or she must remain "on call" during rest breaks. In California, employers are required to provide workers a 10-minute rest break at least every four hours.
Jennifer Augustus, lead plaintiff and former ABM security guard, claims the rest breaks provided don't count because she was forced to remain available in the possible event of an emergency situation.
"ABM admitted it requires its security guards to keep their radios and pagers on during rest breaks, to remain vigilant, and to respond when needs arise, such as when a tenant wishes to be escorted to the parking lot, a building manager must be notified of a mechanical problem, or an emergency situation occurs," according to a lower court's summary. "Plaintiffs contend a security guard's rest period is therefore indistinguishable from normal security work, which renders every rest break invalid."
Divided decisions
The dispute was ignited in 2005 when Augustus filed her complaint against ABM in Los Angeles Superior Court. By 2009, the court confirmed nearly 15,000 other security guards could join her fight against the company.
"What the law requires is that you are, in fact, relieved of your duties during your breaks," said Michael Adreani, a Woodland Hills attorney who's representing Augustus. "ABM is not really playing by the rules here."
The L.A. trial court agreed.
Judge John Shepard Wiley in 2012 awarded the plaintiffs $89.7 million for damages stemming from all improper breaks within a 10-year period, which included accrued interest, penalties and attorney fees.
ABM appealed the decision and was handed a much more favorable outcome in December. The appeals court vacated the hefty award, ruling that California labor laws do not require employers to relieve workers of all duties during rest breaks. That's not the case, however, for meal breaks.
"We believe that the Court of Appeal correctly ruled in our favor," Theodore Boutrous Jr., who's representing ABM, said in a statement to the Business Journal. "The trial court's ruling that the mere potential for interruption invalidates a rest break is unprecedented. The plaintiffs' position is illogical and would wreak havoc on all employers in California."
Boutrous and ABM declined further comment, citing the ongoing litigation.
The decision would affect mostly employees paid by the hour, so retail businesses, for instance, could be among the hardest hit. But it still can have an impact on virtually every business in the state, lawyers say. Even offices staffed mainly with professional workers exempt from hourly wage rules usually have some hourly workers, such as a receptionist.
Indeed, the back-and-forth court outcomes have caught the attention of a slew of businesses.
Paul Grossman, partner in the employment law department at Paul Hastings in downtown Los Angeles, urged the appellate court to consider the real impacts on businesses. Grossman filed a brief on behalf of the California Employment Law Council, an L.A. nonprofit aimed at creating a better legal environment for employers throughout the state. Local members include Activision Blizzard Inc., Big 5 Sporting Goods Corp. and Coffee Bean & Tea Leaf.
"Small and large employers alike face ruin if the trail court is correct," Grossman said in the brief. "Because virtually all employers and virtually all employees understand that the employee is expected to interrupt a break if there is an emergency. And these massive damages will go to employees who suffer no harm. To use a technical, legal term, it's a 'gotcha.' "
For reprint and licensing requests for this article, CLICK HERE.