Law Firm Won't Keep It Brief With Relocation
Monday, May 18, 2015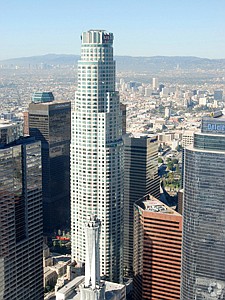 Editor's Note: Information from real estate data provider CoStar Group shows the Singerman/Meriwether team paid $24 million for the Beverly Hills Country Club.
Lewis Brisbois Bisgaard & Smith is staying put.

The law firm, forced from its longtime home at 221 N. Figueroa St. in December when flames spread from an arson fire at the adjacent Da Vinci apartment complex, had taken temporary space at the U.S. Bank Tower in a year-end deal that was the largest lease signed in 2014.
The firm is now closing in on a deal to stay at the downtown L.A. building at 633 W. Fifth St. and is on the verge of signing a 15-year, 215,000-square-foot lease valued at as much as $115 million, according to a source with knowledge of the deal. The deal would commence in January, after Lewis Brisbois' short-term lease ends.
With 277 attorneys in its local offices, Lewis Brisbois is the largest law firm in Los Angeles. The city owns the firm's previous home and after the fire agreed to allow Lewis Brisbois to return to the building, find another location or extend its lease at U.S. Bank Tower. Both the law firm and the city had the option of terminating the lease at 221 N. Figueroa.
Overseas Union Enterprise, the Singapore-based owner of U.S. Bank Tower, will install prominent Lewis Brisbois signage on Fifth, Hope Street and in the building's lobby under the terms being discussed, the source said. Also part of the deal is an opportunity to expand as well as modify the space.
Lewis Brisbois is being represented by Jonathan Larsen, a principal at Avison Young who represented the firm in its move to U.S. Bank Tower last year. The building is being represented by OUE's leasing director, Peter Johnston, and John Eichler at Cushman & Wakefield.
Neither Tim Graves, the law firm's L.A. managing partner, nor the brokers would comment on the pending transaction.
The 1,432,539-square-foot, 72-story Class A office building is, for now, the tallest building west of the Mississippi. (The Korean Air Tower under construction downtown will take that mantle when completed.) It is 82.6 percent occupied by tenants that include U.S. Bank, which takes 105,000 square feet and is the second-largest tenant, and a number of other law firms.
Healthy Lease
DaVita HealthCare Partners Inc. wanted to "DaVita-ize" its California presence.
The Denver company, the result of a 2012 merger of DaVita's kidney care business and Torrance-based HealthCare Partners' physician networks, sought a more modern look for its California offices, with metal, glass and splashes of color in a space where its 800 employees could mix freely.
So the firm chose has chosen to consolidate in an open campus rather than a rising tower that might cordon off its workers into self-contained silos. It has signed a 10-year lease for 185,000 square feet of creative office space at the Apollo at Rosecrans complex in El Segundo. The deal is valued at roughly $115 million.
The move will have the company inhabit a newly renovated 130,000-square-foot building, previously occupied by a defense contractor, and fitted with concrete floors, skylights and a wealth of new windows. The firm will also take 54,000 square feet on the second floor of an adjacent campus building, according to Mike McKeever, a Jones Lang LaSalle senior vice president who represented the health care firm, along with JLL colleagues Gary Horwitz and Kamil Agha, in the deal.
"We're the largest tenant by far," said McKeever. "Since we've done the deal, rents are up over 20 percent in the project."
The landlords, Invesco Real Estate and SSV Properties, were represented by Grafton Tanquary and Bob Healy of CBRE Group Inc.
The campus, which also has a large outdoor common area with an amphitheater and barbecues, is close to other nearby DaVita offices and a light-rail station.
"To be able to create a campus environment in an urban setting is challenging," said Chris Ruzic, DaVita HealthCare Partners' director of real estate. "It's been great having an opportunity to effect the finishes. This is really raw space."
HealthCare Partners' integrated care corporate support functions are scheduled to occupy the campus in December.
Jersey Moving In
Fast-casual sandwich shop Jersey Mike's Subs of Manasquan, N.J., inked three leases this week in Los Angeles with plans to sign a total of 60 more throughout California this year.
Michael Pakravan, vice president of the brokerage group at Kennedy Wilson Inc. representing the company, said it is aggressively expanding throughout the country, especially in Southern California.
"The biggest factor is daytime population," Pakravan said. "Their lunch business really drives what they do."
The chain leased a 1,200-square-foot space in downtown Los Angeles at 801 Hope in a retail-residential mixed-use complex. The shop is expected to open July 1. Lee Shapiro, a Kennedy Wilson executive vice president represented landlord Wood Partners along with Justin Weiss.
The second deal was for a 1,200-square-foot space at 1603 Wilshire Blvd. in MacArthur Park owned by Wilshire Union.
Jersey Mike's, which hired Kennedy Wilson to represent it as the company expands throughout Los Angeles, also leased a location in Simi Valley.
Pro Shopped
The 90-year old Beverly Hills Country Club has been sold to a partnership formed by Chicago investor Singerman Real Estate and Meriwether Cos., a Boulder, Colo., club, hospitality and resort development firm with offices in Los Angeles.
Terms of the deal were not disclosed, but the partners plan to put at least $10 million into a renovation of the tennis and swim venue at 3084 Motor Ave. in Cheviot Hills.
Graham Culp, a Meriwether managing partner, said the new owners told club members they planned upgrades to make it "the finest tennis and athletic club in the U.S."
He said the club, which sits on 4 acres just north of the 10 freeway, has about 1,200 members, below its capacity of 1,900.
Gene Axelrod, chairman of Knight Corp., the general partner of the entity that sold the club, said it had not been actively shopped, but that there had been offers to acquire it for residential development in the past. The seller purchased the property for $5.4 million in 1986, according to Los Angeles County records.
Staff reporter Hannah Miet can be reached at hmiet@labusinessjournal.com or at (323) 549-5225, ext. 228. Staff reporters Marni Usheroff, Subrina Hudson and Jonathan Diamond contributed to this report.
For reprint and licensing requests for this article, CLICK HERE.