Hacked Off
LAX-dependent cabbies hem in area businesses
Monday, May 18, 2015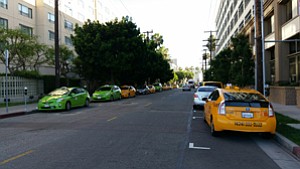 Taxis have been flooding LAX lately, overwhelming the airport's parking system and spilling out onto the streets of Westchester and the Century Boulevard corridor – causing headaches for businesses and hotels in the area.
Why the sudden surge of taxis? Passenger traffic is booming at Los Angeles International Airport, and regulations there have made it one of the only places in town where taxicabs still have an edge over increasingly ubiquitous ridesharing services Uber and Lyft.
The problem, building for years, has reached a boiling point, with more than 100 taxicabs at a time often taking up parking spaces meant for local businesses and their customers. Making matters worse, cabs have lately been joined by scores of Uber and Lyft drivers who can't pick up passengers within the airport but often park at hotels or other locations as they wait for passengers who take free shuttles out of LAX.
"There is no way to understate the impact and disruption that all the taxicabs, limos and other vehicles have had on the businesses here," said Don Duckworth, executive director of the Westchester Towne Center Business Improvement District, who has been getting complaints from businesses. "I had a business owner tell me yesterday that her customers didn't have a place to park to get to her office because of all these taxis and rideshare cars. She lost that business."
Even worse, local business leaders say some taxi and rideshare drivers are throwing their trash on the street before going to pick up customers, leaving local property owners with the cleanup tab.
The situation has grown so bad that city and airport officials held two meetings last week to address the problems. But solutions – chiefly the opening of additional parking lots – are months away and the problems are likely to get worse in the meantime as the peak summer travel season approaches.
"This has moved beyond just an inconvenience – it's now taking away customers," said Laurie Hughes, executive director of the Gateway to L.A. Business Improvement District, which represents property owners along Century Boulevard.
Surging demand
For decades, the number of cabs allowed into the airport has been tightly controlled. The city's fleet of 2,360 taxis is divided into five groups – labeled A through E – with only one group allowed into the airport each day. Those taxis park in a holding lot at Sepulveda Boulevard and 96th Street, waiting for dispatch calls to pick up arriving passengers.
Prev Next
For reprint and licensing requests for this article, CLICK HERE.