Assets a Plus
FINANCE: New B. Riley lending arm cares little about cash flow.
Monday, May 18, 2015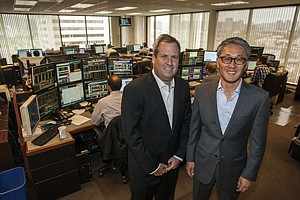 To most lenders, cash flow is king.
But there are plenty of companies with substantial assets that don't regularly spin off cash and don't receive the royal treatment when they look for credit.
That divide looks like an opportunity to West L.A. finance firm B. Riley Financial Inc. Armed with an anchor investment from an affiliate of New York private equity giant KKR & Co., the firm last month launched asset-based lender Great American Capital Partners, which aims to find and cater to those overlooked companies.
"There are a ton of cash-flow lenders in the marketplace," said John Ahn, president of B. Riley. "But our strategy doesn't conflict with a lot of people because it's asset focused."
In launching Great American Capital, B. Riley, a brokerage and investment bank, hopes to take advantage of its existing infrastructure. The firm last year acquired Great American Group, a valuation and liquidation company that gives B. Riley expertise in valuing the assets it intends to lend on, and B. Riley's investment banking operations should provide the asset-based lender with a pipeline of potential borrowers, Ahn said.
"We understand collateral and assets better than any other player in the marketplace," Ahn said. "We will also have so many more proprietary deal sourcing opportunities than anybody else."
Bryant Riley, chairman of his eponymous firm, had served on Great American Group's board for five years before buying the company through a reverse merger last year. During that time, he said he noticed the firm had a knack for accurately figuring out how much things are worth.
"I was intimately familiar with that company's ability to recognize the value of assets," he said.
Once the companies merged, Riley began to consider building a corporate lending arm that leveraged that capability.
He and Ahn said today's banking climate has opened the window of opportunity a little wider for an asset-based lender. Tighter regulations and capital requirements have made lending to smaller companies less profitable for commercial banks. Those companies still need credit and that's created plenty of opportunity for alternative lenders, including business development companies.
"Banks are getting clamped and they cannot be as aggressive as they have been in the past," Ahn said. "The people who have taken advantage of that are a lot of the nonbank lenders, especially the business development companies. But the vast majority of those guys are cash-flow lenders."
While Riley and Ahn envision Great American Capital serving plenty of companies that can't get a bank loan, there are also opportunities to partner with banks and supplement the credit they are willing to extend.
Prev Next
For reprint and licensing requests for this article, CLICK HERE.