Checking Back In
Hotelier Sam Nazarian loses partners in rough return
Monday, May 11, 2015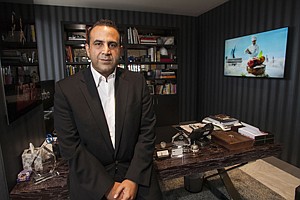 Building brand
Nazarian was born in Iran but fled with his family to Santa Monica during the Islamic revolution in 1979, which made the country dangerous for Jews. Alongside his three siblings, parents, uncles and aunts, Nazarian lived in a hotel for the first several months in America.
After a few years, Nazarian's father, Younes, amassed a hefty stake in San Diego telecommunications company Qualcomm Inc. that eventually turned the immigrant family into billionaires.
That industry is also where Nazarian got his start. When he was 20, he discovered the walkie-talkie technology that Nextel Communications Inc. had just developed for cellphones and the young entrepreneur immediately became obsessed.
He recalled "stalking" the West Coast general manager for six months and camping out in front of his Long Beach office to convince the company to allow him to distribute the product. After Nextel finally agreed, Nazarian founded Platinum Wireless, which he said eventually became Nextel's largest distributor before he sold it after three years.
"It was a fun time. I loved all aspects of that business," he said. "A lot of people don't realize the reason I left was because my dad wanted me to work for him on the real estate side of his business."
That's when Nazarian got his first taste of hotel development. He and his father teamed up with Venice developer Brad Korzen to purchase the Avalon Hotel in Beverly Hills. After that, Nazarian invested in nearly two dozen boutique hotels with his father before deciding in 2002 to branch out on his own and create SBE.
At the helm of SBE, Nazarian delved into the nightlife industry by buying the Coconut Teaszer, a rock-and-roll bar in Hollywood he transformed into a nightclub.

"Back then, L.A. was a sleepy town, believe it or not," he said.
Now, SBE counts the Abbey Food & Bar in West Hollywood, a stake in the Umami Burger chain and the Redbury Hollywood hotel among its holdings. Restaurants and nightclubs – primarily clustered in West Los Angeles, Miami and Las Vegas – make up the bulk of its portfolio.
Of the 80 properties SBE counts in its portfolio, about half are owned. The balance are operated on management contracts or part of branding deals. But the long-term goal is to own only one-quarter of its hotels and manage the rest. At the same time, SBE wants to inject its restaurants and nightclubs into its hotel portfolio, which Nazarian said makes for a more streamlined operation.
For reprint and licensing requests for this article, CLICK HERE.