Hospital CEO Nurses Stability as Payments Fall
HEALTH CARE: Donors help Cedars cope with research funding falloff.
Monday, May 4, 2015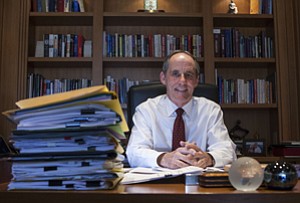 It's a challenging time for all health care providers, even one that consistently makes headlines for the celebrity births inside its hallways decorated with Roy Lichtenstein and Robert Rauschenberg pieces. Beyond its well-heeled patients, Cedars-Sinai Medical Center has garnered attention for its cutting-edge research and innovative efforts like last week's announced integration of Apple Inc.'s HealthKit platform with the hospitals' electronic medical records. But the organization also serves a large population of Medicare and Medi-Cal patients, who racked up more than $400 million in unreimbursed costs last year. And Cedars faces the same economic headwinds – rising costs and sinking reimbursements – as other medical centers. Against that backdrop, Tom Priselac, Cedars' 20-year chief executive, sat down in his office at the L.A. medical center to discuss how a leading health care system can thrive other than through expansion.
Question: Academic medical centers are facing rising costs, declining reimbursements and a need to support increasing patient volumes. How is Cedars coping with such forces?
Answer: As the result of our focus on quality and safety, innovation and work in operational and clinical efficiency, we've been able to weather these storms. Having said that, all hospitals are subject to the same Medicare and Medi-Cal payment policies, which significantly pay less than what it costs to treat patients covered by those programs.
Cedars' residents will face an increasingly competitive business environment. Do you offer any entrepreneurial education?
Not in an entrepreneurial aspect. To be honest, most of the graduates of training programs today actually are looking for some sort of affiliation either with a larger physician group or a health care system like ourselves. The days of physicians graduating from residency or fellowship and then hanging up a shingle are rapidly disappearing if not gone.
Cedars just started integrating Apple's HealthKit platform with its electronic patient files. Why did you decide to work with Apple?
Our desire is to do everything we can within reason to support our patients as they try to maintain and improve their own health status. Members of the health care team having that information – seeing in the record the degree to which the patient has been exercising or not, has gained weight or not, all of those things – just make a better-informed health care professional.
How does Cedars grow its medical research as the National Institutes of Health's budget stagnates?
Our research funding has actually continued to grow, not as much as any of us would like because of the limitations at the NIH, but it's a tribute to our scientists they can be that competitive in an otherwise shrinking environment. Beyond that, we're very fortunate to be supported by a very generous philanthropic community.
For reprint and licensing requests for this article, CLICK HERE.
Prev Next