Now Tech Firms Are Being Recruited To Cheaper Locales
Monday, March 30, 2015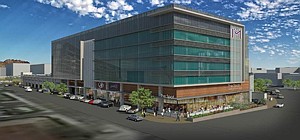 It's a tried and true business practice: keep high-level employees in cosmopolitan headquarter cities but hire customer-service workers and back-office employees in low-cost locales such as Harlingen, Texas.
Stockdale Capital Partners in Los Angeles has put money on the belief that California tech companies have matured to the point where they will soon follow this template.
But there's a twist: Instead of farming out jobs to remote Harlingen, Stockdale hopes Silicon Valley and Silicon Beach companies will set up shop in the more hip and upscale – but still comparatively cheap – city of Scottsdale, Ariz.
Stockdale, an arm of Westwood real estate firm Triyar Cos. Inc., will break ground in September on its second office development in the entertainment district of downtown Scottsdale.
Daniel Michaels, managing director at Stockdale, believes the 250,700-square-foot Class A office development will be attractive as an overflow zone for tech companies that want to expand but are burned out on rising rents in, say, Santa Monica and Playa Vista. The development, named Marquee at the District, will be a half-block south of the Scottsdale Fashion Square regional mall, which recently underwent a 30,000-square-foot expansion.
"If you look at the high cost of living, the rents and the salaries you have to pay to grow in Los Angeles, tech companies looking to grow significantly need cheaper options that offer the same space and walkable amenities," Michaels said.
The principals of Triyar have had investments in Scottsdale for 20 years, and they had a hand in creating some of those amenities. Stockdale has developed about a dozen buildings in the entertainment district that house bars and restaurants. Stockdale also owns the 224-room W Hotel Scottsdale, which it developed from the ground up in 2007.
But some say it's not so easy to build a tech community, and the hope of one thriving in the Phoenix area might be a long shot.
"Office rents are two to three times more costly in Silicon Beach and Valley and that alone would make Scottsdale enticing for certain tech companies," said Larry Kosmont, chief executive of downtown L.A. development services firm Kosmont Cos. "But the reality is that birds of a feather flock together and tech wants to be with tech."
Cost comparison
The overall cost of living in Scottsdale is 30 percent less than in San Francisco and about 16 percent cheaper than Los Angeles, said William Mellor, director of research at site location consulting firm Angelou Economics in Austin, Texas.
If a worker were to move from Los Angeles to Scottsdale, housing would cost 30 percent less and utilities would cost 18 percent less, but these and other cost reductions would be tempered by a lower salary; the comparable after-tax income of a worker making $100,000 annually in Los Angeles is about $84,500 in Scottsdale, Mellor said.
But those lower salaries also could be a draw for Silicon Beach companies. The average annual wage for someone with a computer-related occupation in the Phoenix area was $81,800 in 2013, according to data from the Bureau of Labor statistics, compared with $88,500 in Los Angeles and a little under $100,000 in San Francisco.
In addition to low rent and cheaper labor, Stockdale is betting Scottsdale will be attractive as it becomes a breeding ground for young talent.
"Scottsdale is about 10 miles north of Arizona State University, and it has more amenities, more restaurants, more bars, than the rest of greater Phoenix, so this is typically where people move when they graduate, and employers looking to recruit those graduates can put a flag in the ground here," said Brian Taute, a senior vice president in the Phoenix office of downtown L.A.'s CBRE Group Inc. who will lease the Marquee property.
Stockdale's Marquee will be the city's first creative office campus. The firm owns the adjacent Galleria Corporate Center, which it acquired in 2013, with some financial backing from downtown L.A. investment firm Oaktree Capital Management, for $69 million from New York's JEMB Realty Corp., which had redeveloped it from a shopping mall to a 537,110-square-foot office tower.
The value has roughly doubled since Stockdale's acquisition, said Sean Blitz, a vice president at the firm. He added that at least one-quarter of the company's manpower is focused on projects in Scottsdale, far more energy than is expended on its headquarter city of Los Angeles, where Blitz said there were no investments he could publicly discuss.
The Galleria is 99 percent leased, he said, with several tech tenants, including San Francisco's Zenefits; Weebly; and, most notably, Yelp, which brought in 800 employees.
Most, but not all, of the positons at these companies are sales functions, Michaels said.
"We opened an office in Scottsdale because of its educated labor pool and high quality of life for our employees, including cost of living and a vibrant local community," said Rachel Walker, a spokeswoman for Yelp.
Yelp is one of just over two dozen tech companies that have offices in Scottsdale, though many of them are older information technology and security firms not necessarily involved in the current buzz around the tech sector.
Taute said the creative offices, which are not slated for completion until the end of 2016, would not be ideal for startups, which come and go, but would be a match for mature tech companies seeking 20,000 square feet or more.
He declined to comment on which companies he has engaged in early lease discussions.
One such mature tech company, Cupertino giant Apple Inc., announced last month that it is opening a call center in Mesa, a suburb 11 miles south of Scottsdale, investing $2 billion there over 10 years. Like Apple, most of the tech companies that are setting up shop in the Scottsdale area are headquartered elsewhere, said Stockdale's Michaels. (One of the exceptions is GoDaddy Inc., a website hosting platform headquartered in Scottsdale that has 650 employees.)
But Kevin Winston, founder and chief executive of tech networking group Digital LA, said Scottsdale is hardly the talk of Silicon Beach.
"L.A. companies do open satellite offices, but they open them in New York and San Francisco," Winston said, pointing to Hollywood multichannel network StyleHaul, which opened an office in New York to be closer to the fashion and advertising companies that are its bread and butter.
"Traditionally, you would have low-cost sales reps in a call center, but from what I know, L.A. tech companies aren't at that level yet," he said. "They're doing it themselves."
For reprint and licensing requests for this article, CLICK HERE.