New Blueprint
DEVELOPMENT: Executive architect firm House & Robertson sees more work from small design firms handling big projects.
Monday, March 23, 2015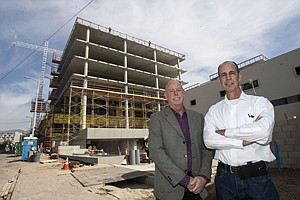 Small, hip architecture firms have won plenty of projects lately amid L.A.'s new building boom, but to get projects built right, on budget and with the blessings of city code officials, those firms sometimes turn to the uncreative, unsexy skills of what's called executive architects.
Firms such as House & Robertson Architects Inc. in Culver City don't do the design work handled by most architects. Instead, they have a more behind-the-scenes role: They draft the detailed, technical drawings that contractors need to build structures. They manage project budgets and supervise contractors. And they make sure projects meet local construction requirements.
Those are jobs small architecture firms often can't handle in house, especially on big or complex projects. And as small design-oriented firms have seen their business grow, so have executive architects.
At House & Robertson, revenue has exceeded the firm's prerecession peak by about 20 percent, said Principal Jim House, who runs the firm with partner Doug Robertson. Their staff of 29 architects is bigger than it ever was.
"More and more developers are looking at not bringing in old-guard design firms, but younger, more creative architects," House said. "But they also want to keep them on track with budgets, and that's part of the trend that's led to a big uptick in business (for us) over the last couple of years."
Another firm specializing in executive architecture, Adamson Associates Architects, which is based in Toronto but has an office in Los Angeles, has also seen business pick up. George Metzger, an Adamson principal in Los Angeles, said developers increasingly want design firms to focus on design and let executive architects handle the rest. He's also seen developers hiring more foreign or out-of-state architects. When the designer isn't in town, Metzger said developers are especially keen to have a local executive architect.
"It's becoming a smaller world, so developers are selecting architects from all parts of the world," he said. "But those design architects don't have design experience locally, so the trend is to combine them with local executive architects."
Creative spaces
One of House & Robertson's current projects is Columbia Square, a blocklong project under construction in Hollywood by West L.A. developer Kilroy Realty Corp. Kilroy hopes the project will attract creative firms and young workers with a mix of creative office space, high-rise housing, shops, restaurants and park space, all built on a former radio, TV and film production site on Sunset Boulevard.
At nearly 670,000 square feet, the project was large enough that design firm Rios Clementi Hale Studios in Los Angeles needed House & Robertson's project management experience to oversee two general contractors and dozens of subcontractors. In addition, complex construction methods used to build the project required technical construction drawings that Rios Clementi Hale couldn't do on its own, said Principal Bob Hale.
For instance, technical drawings detail how exterior windows should connect to structural walls to make sure water doesn't get in and air conditioning doesn't get out, he said.
"That kind of construction is more complex and sophisticated, and the people needed to develop those documents need to be more sophisticated to be able to do that," he said. "I don't have a lot of people on my staff who know how to make sure water doesn't come in through a curtain wall."
David Simon, an executive vice president at Kilroy, said developers team up with executive architects and design firms for several reasons, but particularly because executive architects can save them money and time by providing better, more accurate drawings and plans than design-focused firms can.
"The more detailed the drawings and the more precise the drawings, the tighter pricing you get from contractors, and then the less unknowns you get through the process," Simon said.
Another local architecture firm, Hollywood's 5+design, found much of its work abroad over the past few years but is now looking for more local projects. That's why Mike Ellis, one of the firm's managing principals, has been searching for an executive architecture firm to partner with. He said local developers increasingly want to hire architects who know local building codes and have relationships with local permitting agencies and officials. Ellis' firm doesn't have those relationships.
He's considering partnering with House & Robertson and Adamson.
"They have very strong capabilities and strong relationships with building departments," Ellis said.
For reprint and licensing requests for this article, CLICK HERE.