Hitting Road, Minding Health
Stay Fit Housing helps business people work out their travel plans.
Originally published March 23, 2015 at midnight, updated March 23, 2015 at 11:17 a.m.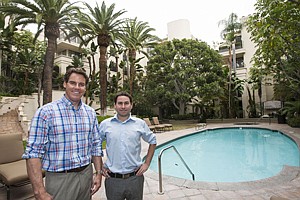 Being away from home and out of a routine for an extended period can take its toll. That's the challenge the co-founders of Stay Fit Housing are trying to address by offering extended-stay business travelers a chance to live in comfortable spaces with access to a variety of healthy food and exercise options.
The Santa Monica company, which secures leases of 30 days or more for its clients anywhere in the United States, works with property managers and brokers throughout the country to find housing complexes that generally have a mix of permanent and extended-stay residents.
At the roughly 25 complexes Stay Fit works with in the L.A. area, prices for a fully furnished one-bedroom apartment begin at $169 a night, while two-bedrooms start at $215. Each reservation includes a consultation with Stay Fit's health and fitness expert and 10 fitness classes at a nearby boutique studio. The fridge also comes stocked with a variety of nutritious foods and beverages.
That has proved particularly appealing to several Major League Baseball players (including a member of the Los Angeles Dodgers and his family) and personnel, who have signed up as customers in Arizona and Florida during spring training.
"We probably work with about half of Major League Baseball's teams," said Daniel Corridon, Stay Fit's co-founder and chief executive.
He said about 30 percent of Stay Fit's clients come from sports, media and entertainment, with the majority from the ranks of Fortune 1,000 companies.
The company, which officially started housing customers in September, has tripled its customer base each month since launch and is on pace to generate a seven-figure revenue total in its first year, Corridon said.
Corridon and co-founder Dan Hauptman, president and chief operating officer, work from home offices in Brentwood and Santa Monica, respectively. A third co-founder, Joshua Karotkin, chief financial officer, is based in New York.
"We were really mindful about limiting our startup costs and expenditures on the front end," Corridon said.
In addition to offering cheaper rates than those at comparable three- or four-star hotels, he said, there is another big benefit: "You're getting three to four times the space – and the guests can bring pets."
– Omar Shamout
*This story has been updated to correct the name of Stay Fit's chief executive and co-founder.
For reprint and licensing requests for this article, CLICK HERE.