Port Venture Looks to Make Inroads on Chassis
SHIPPING: System aims to reduce expense, time of finding, using trailers.
Monday, March 16, 2015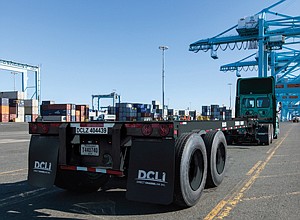 For months, truckers at the local ports had trouble finding enough of the trailers used to haul cargo around the harbor. But a new system to manage the trailers, also called chassis, launched this month and the companies that own the chassis say things are now running smoothly.
On March 1, 81,500 chassis became available to truckers under a new system formed and managed by three chassis leasing companies, Direct Chassis Link Inc. of Charlotte, N.C.; Flexi-Van Leasing Inc. of Kenilworth, N.J.; and Trac Intermodal of Princeton, N.J.
The three put their chassis into a single pool, giving truckers the flexibility to use any chassis at any port terminal. Before, if a trucker wanted to haul a container out of the port, they would have to have a chassis tied to the shipping company or terminal operator.
That meant truckers often wasted trips by showing up to terminals with the wrong kind of chassis, then had to drive around the harbor complex to find the right kind. It also meant they had to drop off chassis at a specific location, often requiring a special trip.
"It's been very well received," said Bill Shea, chief executive of Direct Chassis Link. "The feedback we've gotten from the Harbor Trucking Association and trucking companies is that this was long overdue, and the availability and flexibility to drop chassis off at multiple locations is a big benefit."
Shea acknowledged that there have been a few glitches, but said they were solved quickly. Over the next two weeks, the three companies will be developing a way to measure chassis usage at different terminals, track out-of-service chassis and figure out how well they're repositioning chassis to ensure there are enough at every terminal. Those figures will then be compared with similar figures from the previous chassis system.
"I would think within 60 days, we should have a pretty good scorecard," Shea said.
Busting Backlog
With several months of containers sitting on their docks, the ports of Los Angeles and Long Beach are each working on ways to get cargo moved out as quickly as possible.
The Port of Los Angeles late last month launched a program called Peel Off that focuses on cargo brought in by high-volume importers – think big retailers, such as Wal-Mart Stores Inc. and Home Depot Inc.
The port is working on the program with San Rafael stevedoring company Pasha Group and harbor trucking firm Total Transportation Services Inc.
Cargo owned by big customers will be stacked together on the docks after being unloaded from ships. Terminal operators will move Total Transportation trucks through their gates faster so they can pick up the containers and take them to a loading yard about a mile from the port. From there, containers are sorted again before being delivered to inland distribution centers.
The idea is that by moving that cargo off the docks quickly and sorting it off site, terminals will have more space to deal with cargo containers for other customers.
Pasha manages the storage yard and wants to expand the program throughout the harbor, said Jeff Burgin, the company's senior vice president.
The yard is currently open six days a week from 7 a.m. to 3 a.m. and Pasha will make it a round-the-clock operation if the demand is there, the company said in a press release.
Gene Seroka, the L.A. port's executive director, said the program is necessary because of the ever-larger container ships now calling on the ports. He noted that the port began planning the program before last year's port congestion.
In Long Beach, harbor officials are trying to keep cargo moving by extending the life of a temporary depot used to store shipping containers and chassis.
The port last year had set aside a 30-acre site on Pier S for storage, and said it would remain open through the end of this month. Now, port leaders say it will remain open through September.
As terminal operators continue to work through the cargo backlog that developed over the past few months, they still need the additional space for storing containers.
Pasha has been operating the storage depot for the port since December.
New Chief
Former Denver transit executive Phillip Washington will take over as chief executive of the Los Angeles County Metropolitan Transportation Authority later this year, Metro's board announced last week. He will replace Art Leahy, who will step down next month.
Washington has served as chief executive of Denver's Regional Transportation District since 2009. While there, he implemented a voter-approved transit expansion program called FasTracks and oversaw other expansion projects.
Staff reporter Carol Lawrence can be reached at clawrence@labusinessjournal.com or 323-549-5225, ext. 237.
For reprint and licensing requests for this article, CLICK HERE.