Apartment Buyers Find Rooms in Santa Monica
ACQUISITIONS: Pair of multifamily pickups put power of market on display.
Monday, March 16, 2015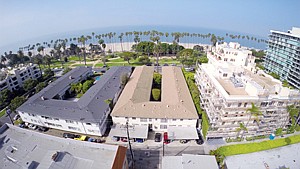 The Santa Monica multifamily market remains hot.
In the larger of two recent deals, All West Holdings of Los Angeles purchased Ocean View Apartments, a 25-unit complex at 615-17 Ocean Ave. overlooking the Pacific, for $15.6 million, or $624,000 a unit.
The seller was Hendlish Family Trust, which, amid a battle among family members, had been court ordered to sell the 22,426-square-foot property. It was the last remaining parcel in the trust's now-dissolved portfolio, according to Kitty Wallace, executive vice president at Colliers International, who represented the buyer.
Wallace said the buyer plans to hold on to the property, which is rent controlled and 100 percent occupied, and remodel each apartment as it becomes vacant, rather than tearing it down or trying to buy out tenants.
With the exception of one studio, the property is composed of two-bedroom apartments with an average rent of $2,000 a month, Wallace said. The rents range greatly, from under $700 a month to over $3,000 a month. Four units have ocean views.
Colliers' David O'Neil represented the buyer.
The other recent acquisition was made by Santa Monica multifamily investor Jeffrey Nemoy, who purchased a 14-unit Class B apartment building at 1008 Second St. for $6.38 million, or $448,214 a unit. The seller was Jasin Co. of Encino, which bought the 15,858-square-foot property in 1969.
George Azzi, a business development associate at Marcus & Millichap-backed Azzi Advisors, represented both the buyer and the seller along with Tony Azzi. He said that the seller felt it was about time to sell. Nemoy is an investor whose sweet spot is Santa Monica properties, and he plans to hold on to the 100 percent-occupied building.
Nemoy late last year broke recent records in Brentwood with his $25.5 million purchase of Majestic East & West Apartments, a 68-unit, two-building property at 11677 and 11683 Goshen Ave. It was, at the time, the highest price paid in the submarket in 15 years.
Fire Fix
The city of Los Angeles is moving forward with roughly $38 million in repairs to 221 N. Figueroa St., a 307,000-square-foot, 16-story tower that was damaged in December when flames spread from an arson fire at the adjacent Da Vinci apartment complex.
Maria Cardenas, chief administrative analyst for the city administrative officer, said the repairs would be covered by insurance and were likely to be completed before the end of the year.
As a result of the damage to the building, tenant Lewis Brisbois Bisgaard & Smith, L.A.'s largest law firm, was forced to relocate. The firm signed a short-term lease for about 215,000 square feet at the 72-story U.S. Bank Tower, and Jody Jackson, the firm's marketing director, said it was not clear whether the firm would return to the Figueroa Tower once renovations are completed.
It could return, find another location or extend its lease at U.S. Bank Tower.
On March 6, the City Council extended the deadline to April 7 for the law firm to notify the city whether it intends to return to the tower. Lewis Brisbois has the option to terminate its lease if the firm chooses to, Cardenas said.
The city occupied the balance of the building and will return once the renovations are complete.
The city bought the two-building property through its Department of Recreation and Parks for $219 million, or $356.03 a square foot, in 2007. Lewis Brisbois leased nine floors and 163,881 square feet of the north tower in 2012.
Open in El Segundo
Campus 2100, a newly renovated, three-building creative office campus in El Segundo, has signed a pair of tenants in deals valued at about $17 million.
Joint venture partners Rockwood Capital and Marshall Property & Development lured Cherryman Industries, a furniture company, from Carson to occupy 17,223 square feet in the 200,000-square-foot campus. Cherryman signed a 10-year lease, and will bring 50 employees to the property, which will be its new headquarters.
Also signing up was Wpromote, an Internet optimization company, which will relocate from within in El Segundo. The company signed a seven-and-a-half-year lease for 34,492 square feet of space, which will house 150 employees.
These new leases represent 25 percent of the campus, bringing the property's occupancy to 50 percent.
A $10 million repositioning of the six-acre campus by the joint venture was completed Feb. 1.
Chris Sinfield and Tom Sheets of Cushman & Wakefield represented the landlords. Wes Honeycutt and Matt Moore of Newmark Grubb Knight Frank represented Cherryman and Eric Adams of Jones Lang LaSalle represented Wpromote.
Staff reporter Hannah Miet can be reached at hmiet@labusinessjournal.com or at (323) 549-5225, ext. 228.
For reprint and licensing requests for this article, CLICK HERE.