Shopping Site Looks to Bottle Up Prescriptions
INTERNET: GoodRx teams with 4D to reach corporate customers, health plans.
Monday, March 9, 2015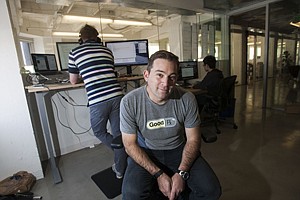 People routinely look around for the best deal on a car, a TV or a nice pair of jeans. But they likely won't shop at all for their monthly refill of Lipitor.
GoodRx Inc. has been trying to change that. The Santa Monica company runs a website allowing consumers to comparison shop for the best price on prescriptions at local pharmacies or by mail order.
The company, co-founded in 2011 by former Facebook Inc. and Yahoo Inc. employees, makes money from ads, referral fees from links to websites like Amazon.com for over-the-counter drugs, and minor administrative fees when consumers print coupons and present them at pharmacies.
But as of the first of the year, GoodRx took on a larger market, partnering with 4D Pharmacy Management Systems Inc., an established pharmacy benefits manager, to bring its shopping platform to health plans and corporate clients.
Rather than charge an annual contracted fee like other benefits managers, 4D and GoodRx are paid an administrative fee for each claim paid. The partnership has already signed San Antonio's iHeartMedia Inc. as a client, allowing its employees to find the cheapest place to fill a prescription online, through an app or by calling an 800 number.
"Traditional pharmacy benefits managers are mysterious," said Doug Hirsch, co-chief executive of GoodRx. "We're going to pass through, show you exactly how much a drug costs. We'll take a small administrative fee and show your employee exactly how much it costs."
Jeff Polter, a 4D vice president for business development and account management, credits GoodRx co-founders and their tech background with improving the user experience.
"We are not technologists. ... They're not (benefits) people," he said. "You put the two together and we challenge each other."
Yahooligan
Hirsch, 44, was inspired to take on the prescription market as a result of his own experience trying to fill an order for medication. He said he shopped around and found a prescription he needed that cost $250 at one drugstore and $300 at a supermarket, where the pharmacist chased him into the parking lot and offered to negotiate down the price.
"There's all kinds of crazy discounts people can have with and without insurance," Hirsch said, noting charges can vary wildly from pharmacy to pharmacy depending on dose, quantity and whether one is getting a capsule or tablet.

Hirsch, a veteran tech executive, used his experience to take on the new challenge.
His career started at Yahoo, which he joined in 1996 as one of the then-two-year-old company's first product managers. Working at its Sunnyvale headquarters, he helped build such products as Yahoo Mail; Message Boards; and Yahooligans, a content site for kids. He later moved his family to Los Angeles, his hometown, and helped build out Yahoo Entertainment as its general manager.
He left in 2005 for a short stint as head of product at Facebook, leaving after six months to found DailyStrength, a health-focused social network where people could upload photos, write journals, support each other and share information about their treatments.
The company raised $4 million in venture capital and had 3 million visitors a month at its peak. Hirsch sold the company in 2008 to HSW International Inc. for $3.13 million in cash, with the opportunity to earn an additional $3.53 million if certain benchmarks were met, according to regulatory filings.
Hirsch worked on incubating startups until 2011, when he reconnected with Scott Marlette, a Georgia Institute of Technology-trained programmer with whom he worked at Facebook, and Trevor Bezdek, a programmer from Stanford University. Together, they co-founded GoodRx.
The company now has 27 employees and is profitable, said Hirsch, though he declined to disclose revenue. He did say that after an initial $1.5 million fundraise in 2011 from a combination of venture capital and angel investors, including Santa Monica's UpFront Ventures, the company hasn't had to go back for another round.
New approach
Hirsch said his team explored getting into pharmacy benefits management after being contacted by companies whose employees asked for the system to be integrated into their own prescription drug program.
The market is dominated by companies such as Express Scripts Inc., which racked up net income of $2 billion on revenue of $100 billion last year, and CVS/caremark, which acts as a benefits manager and has a nationwide network of pharmacies.
GoodRx ultimately went with 4D, a Troy, Mich., company with revenue in the "hundreds of millions," according to Polter, that serves clients throughout the country, including government programs, commercial groups, cities and states.
Polter said clients must opt in to the program, which started serving clients Jan. 1 and has so far enrolled more than 100,000 users. The venture has about a dozen clients, including media company iHeartMedia, formerly Clear Channel Communications.
He said the platform is popular with clients whose employees are on high-deductible health insurance plans and must pay a lot out of pocket before greater reimbursements kick in.
That makes sense to Peter J. Pitts, a former associate commissioner of the Food and Drug Administration who is now president of Center for Medicine in the Public Interest, a New York think tank.
"It's a great thing to know you can (comparison shop), especially for high-deductible plans," Pitts said, provided consumers have transportation to get to the less expensive pharmacy.
He said that while pharmacy benefits managers are supposed to reduce costs for employers, their interests aren't always aligned with those of consumers because many tack on a fee that's a percentage of a drug's price.
"A lot of times, kind of perversely, a pharmacy benefits manager will prefer a more expensive medicine because their markup will be more," Pitts said. "The tightrope pharmacy benefits managers walk is weighing corporate profitability versus the best interest of the patient. And sometimes that goes hand in glove, other times there's a conflict."
He noted that pharmacy prices don't just represent the manufacturer's charge, but also how people all up and down the line make their money.
From a consumer's perspective, the more transparent, the better, he said.
Hirsch doesn't see his company walking such a fine line.
"We're capturing profitability on a per-claim basis, not getting more on drug X versus drug Y," he said. "Many pharmacy benefits managers have in-house mail order and are not only adjudicating claims but picking up money as an actual seller of drugs, maximizing profitability by sending people to themselves. We don't offer that because we think that's a conflict."
For reprint and licensing requests for this article, CLICK HERE.