Shopping Site Looks to Bottle Up Prescriptions
INTERNET: GoodRx teams with 4D to reach corporate customers, health plans.
Monday, March 9, 2015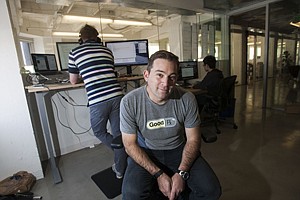 People routinely look around for the best deal on a car, a TV or a nice pair of jeans. But they likely won't shop at all for their monthly refill of Lipitor.
GoodRx Inc. has been trying to change that. The Santa Monica company runs a website allowing consumers to comparison shop for the best price on prescriptions at local pharmacies or by mail order.
The company, co-founded in 2011 by former Facebook Inc. and Yahoo Inc. employees, makes money from ads, referral fees from links to websites like Amazon.com for over-the-counter drugs, and minor administrative fees when consumers print coupons and present them at pharmacies.
But as of the first of the year, GoodRx took on a larger market, partnering with 4D Pharmacy Management Systems Inc., an established pharmacy benefits manager, to bring its shopping platform to health plans and corporate clients.
Rather than charge an annual contracted fee like other benefits managers, 4D and GoodRx are paid an administrative fee for each claim paid. The partnership has already signed San Antonio's iHeartMedia Inc. as a client, allowing its employees to find the cheapest place to fill a prescription online, through an app or by calling an 800 number.
"Traditional pharmacy benefits managers are mysterious," said Doug Hirsch, co-chief executive of GoodRx. "We're going to pass through, show you exactly how much a drug costs. We'll take a small administrative fee and show your employee exactly how much it costs."
Jeff Polter, a 4D vice president for business development and account management, credits GoodRx co-founders and their tech background with improving the user experience.
"We are not technologists. ... They're not (benefits) people," he said. "You put the two together and we challenge each other."
Yahooligan
Hirsch, 44, was inspired to take on the prescription market as a result of his own experience trying to fill an order for medication. He said he shopped around and found a prescription he needed that cost $250 at one drugstore and $300 at a supermarket, where the pharmacist chased him into the parking lot and offered to negotiate down the price.
"There's all kinds of crazy discounts people can have with and without insurance," Hirsch said, noting charges can vary wildly from pharmacy to pharmacy depending on dose, quantity and whether one is getting a capsule or tablet.

Hirsch, a veteran tech executive, used his experience to take on the new challenge.
Prev Next
For reprint and licensing requests for this article, CLICK HERE.