Piling It On
OhCal Foods rides acquisition to No. 1 in Subway franchising
Monday, March 9, 2015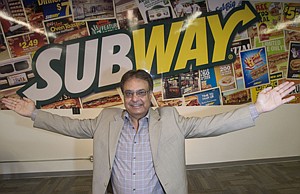 Once the earl of sandwich in Southern California, Hardeep Grewal is now the reigning king of Subway restaurant franchising nationwide.
Grewal's OhCal Foods, which oversees Subway franchises in Los Angeles and Orange counties, has just acquired franchise development rights for all of Virginia; Washington, D.C.; and most of Maryland in a deal that makes him Subway's biggest franchise developer. By far.
OhCal bought the territory from Feldman Group of McLean, Va., in a sale that closed late last month and nearly doubled the size of the company's hoagie holdings overnight. The Woodland Hills company now oversees about 2,170 Subway locations, or 8 percent of all Subways in the United States.
Put another way, Grewal's territory now includes one out of every 12 Subways nationwide. That's more than double the next biggest franchise developer.
For years, OhCal had been battling Feldman for the distinction of being the largest franchise developer for Subway, which is the world's largest franchise operation and is owned by Doctor's Associates Inc. of Milford, Conn. But with Feldman's 1,000 stores now part of OhCal's kingdom, Grewal has taken the crown.
"This deal put us over the top," Grewal said.
But the deal is about much more than bragging rights. OhCal's revenue also figures to grow substantially. As a franchise development agent, OhCal matches franchise operators with sites and helps existing franchisees with marketing, quality control and lease negotiations. OhCal gets a cut of both franchisee ownership transactions and royalty payments that the franchisees make to brand parent Subway.
Grewal said the nearly 2,200 franchisees now under OhCal's supervision bring in about $1.3 billion in annual sales. Franchisees pay 8 percent of their sales in royalties to Subway, which comes to $104 million a year from OhCal's restaurants.
Most of those royalty payments go to Subway corporate, but OhCal gets a slice. Grewal would not say exactly how much his company receives, but said it can be up to one-third of total royalty payments.
That would translate to as much as $35 million a year for OhCal in royalty revenue alone, not to mention money it makes from franchise ownership transactions in its territory.
Unexpected path
Grewal, 59, became a Subway magnate almost by accident. Born in Punjab, India, he attended school in Montreal and moved to Los Angeles with his wife, Patwant, in 1986, when he got a job as controller at a subsidiary of Mitsubishi Corp.
Prev Next
For reprint and licensing requests for this article, CLICK HERE.